How to Care for Your Vehicle's Upholstery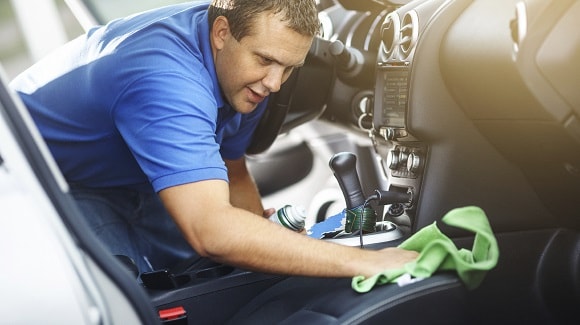 Whether you're simply commuting to work, shuttling the kids to school or tackling tough home improvement jobs, your vehicle's upholstery is bound to get dirty. From cleaning up dirt and crumbs to spills and pet accidents, here are some tips to help you maintain your vehicle's upholstery, whether it's made of practical cloth or luxurious leather.
Useful tools
You'll need a few tools to get the job done right. Brushes are helpful for working detergents into the fabric and sweeping up the debris that has settled into crevices. Stiff-bristle brushes are ideal for scrubbing carpet, while soft-bristle brushes are best for both cloth and leather seats. Also, because dust, crumbs and pet hair can build up on your car's soft surfaces, it's a good idea to use a vacuum cleaner with an upholstery brush nozzle and a crevice tool for tight spots. Before you vacuum, check the nozzle for burrs that could snag on fabric and sand these rough edges down with 2000- or 3000-grit sandpaper.
If you need to remove ground-in dirt and stains, purchase a specialized car upholstery shampoo. While it may be tempting to save a few dollars by using household cleaners or homemade alternatives, cutting corners can degrade and discolor your upholstery, spread stains around or leave the fabric feeling sticky. To preserve your car's value, it's worth splurging on specialized cleaning products.
Fabric care
Fabric is easier to clean and less finicky than leather, but no matter what kind of cleaner you're using, test it on a small, hidden area of your upholstery. For a deeper cleanse, consider using a steam cleaner or a high-quality hot water extractor. These methods use small amounts of water to loosen grime from your car's fabric. With a steam cleaner, you'll want to absorb excess moisture with a microfiber towel. A hot water extractor, on the other hand, gives you a nozzle that both sprays and suctions away water. In either case, you'll get the best results if you work in small patches, avoid oversaturating the fabric and allow your vehicle to dry thoroughly after cleaning. To prevent future stains, treat the upholstery with a fabric guard.
Leather care
Water, conventional cleaning products and scrubbing can degrade leather upholstery, making it critical for you to purchase specialized leather cleaning products. In most cases, you'll get the best results by using a soft-bristle brush or microfiber towel to massage the cleaner into the leather. Use a clean cloth to wipe away excess cleaner, and let it dry. Once it's dry, use a cloth to apply leather conditioner to your upholstery. Spread it evenly and allow it to sit for four to six hours then wipe away any leftover conditioner. To keep your leather appointments soft and supple, repeat this every three to six months. In between cleanings, keep your vehicle's upholstery away from harsh sunlight and heat, which degrade leather.
Cleaning your vehicle's upholstery will make every car ride more comfortable. Better yet, it can help maintain your vehicle's value and cut down on allergens. By following these tips, you can give yourself a fresher and more comfortable commute.
This article is presented by Bob Hook Chevrolet.