5 Educational Mobile Apps to Keep the Kids Entertained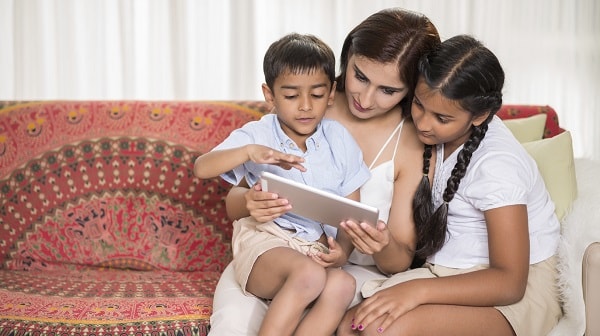 Some educational apps have an element of entertainment to engage your kids. When your kids are having fun, they are more apt to focus on the lesson, and most importantly, keep learning. Here are a few educational mobile apps designed to entertain while teaching your kids.
Comprehensive learning
Geared for kids from age 2-8, ABCmouse.com is an educational app and website that focuses on several areas of study — reading and language, science and social studies, math and art and colors. It boasts more than 10,000 activities and advances through 10 levels of guided learning. The animations are colorful. Games, puzzles and stories are plentiful on the site as is its library of songs designed to teach and entertain.
The Adventure Academy of ABCmouse.com teaches kids ranging in age from 8-13. The app focuses on math lessons such as geometry, fractions, word problems and more concepts. Exploring environments, atoms and forces are included in the science study. Social studies focuses on world cultures, geography, economics and history.
Geography fun
The app, Stack the States, challenges your elementary school kid's knowledge of United States geography. With each question answered correctly, your kid earns the chance to stack the states in a tower. Once the stack is stable and towers over the finish line, the next level appears. The app is available for the iPad, iPhone and Android devices.
Reading comprehension
If you are trying to get your kid to read more, consider the Epic! app. It has earned endorsements from educators (Teachers' Choice Award 2020), parents (Mom's Choice Award 2014 and Parent's Choice Gold Award 2019) and publications (Good Housekeeping, Parents and Fast Company). Designed for students in kindergarten through fifth grade, Epic! is a seemingly bottomless resource for readers with an e-book library of approximately 40,000 titles. Audio, award-winners, fiction and nonfiction stories and books in Spanish are available, as well as teacher-curated collections that cover topics such as space, forest habitats, poetry, math, geology and Native Americans.
Help with numbers
There are 12 different math games in the Quick Math Jr. app that focus on the building blocks of math. Elementary school kids ranging from age 3-7 will learn to count, add and subtract. The games also focus on place value, skip counting and number lines and prompt your child to write their numbers. Every new feature your child wins lets them design a monster.
Artistic expression
Taking pen to paper gets a tech upgrade with DRAWNIMAL by YATATOY. Kids starting in preschool (and beyond) will have fun with the iPhone/iPad-compatible app designed to encourage your child's creativity and strengthen their knowledge of the alphabet. It offers instruction in five languages — English, Spanish, Italian, French and German. Your child does not have to be a skilled artist to enjoy this app. Simple shapes make up the main attributes of the long list of animals, which includes a penguin, tiger, unicorn, zebra, alligator, bear, iguana and koala.
If your kids are clamoring for screen time, make sure it's time well spent. Focus on these entertaining, educational apps designed to challenge your kids with fun games, colorful graphics and engaging content.
This article is presented by Lexus of Henderson.