Recipe of the Month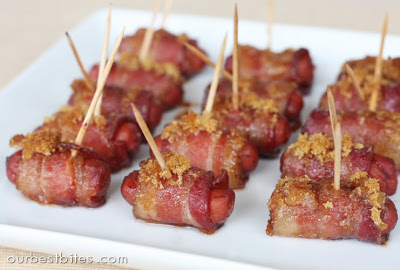 Your fantasy football draft night appetizer is here! This recipe is quick, easy and sure to impress your buddies.
Bacon-Wrapped Cocktail Sausages
Recipe from Our Best Bites
Ingredients:
1 14-oz. package Lit'l Smokies
1 12-oz. package lean bacon
3/4 c. brown sugar
Instructions:
Preheat your oven to 325 and line a baking sheet with aluminum foil. Using a pair of kitchen shears, cut the slab of bacon into thirds.
Wrap 1/3 of each slice of bacon around each sausage and secure with a toothpick and place on the baking sheet.
Repeat with remaining sausages and bacon. Sprinkle brown sugar over sausages and bake at 325 for 40-45 minutes or until bacon has cooked and is starting to brown.
If you're serving these at a party, they taste even better after a little time in the slow cooker on low heat. And that bacon grease that has co-mingled with the brown sugar? Let's just not think about what it actually is and focus on how that salty-sweetness is a perfect glaze for these little suckers