4 Unique Ways to Celebrate St. Patrick's Day
Put on some green, pour a drink, and enjoy the most iconic holiday of the Emerald Isle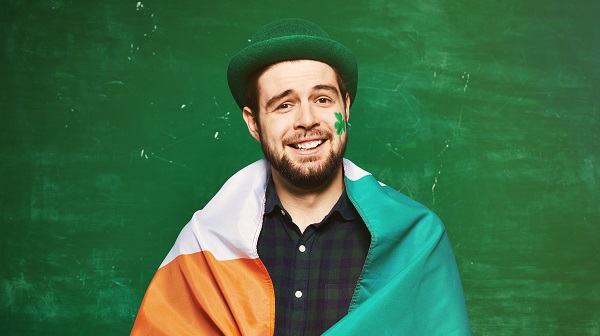 Most of us associate St. Patrick's Day with revelry, libations and reckless good times. While you can still enjoy any or all of those indulgences, there are tons of ways to celebrate the greenest of holidays with your family, significant other or by yourself. If you're looking for a way to spend the best-known Irish holiday, consider these suggestions.
Have some fun with your family
As with any holiday, there are loads of ways to involve your children in the proceedings. Who doesn't love a leprechaun? Who doesn't enjoy a good bowl of "Lucky Charms?" Outside of pre-packaged cereal and fantasy characters, there are loads of ways to celebrate St. Patrick's Day with your family.
There's no need to settle for those tiny sugar cookies with seasonal designs. Instead, bake some festive treats with your kids. Whether you're just adding some green food coloring to your favorite recipe or decorating a homemade cake with edible shamrocks, preparing a delicious dessert and/or snack is a phenomenal way to acknowledge St. Patrick's Day while having fun with your kids.
No need to drink
Drinking is associated with almost all western celebrations, from weddings to Christmas to Mardi Gras. However, there are few holidays that are as closely related to drinking as St. Patrick's Day. A great deal of this perception is due to outdated stereotypes aimed at the Irish population, but as any Irish citizen would tell you, there are tons of ways to celebrate St. Patrick's Day without drinking.
If you want to participate in the festivities, you can volunteer to serve food and drinks to people in need, treat local children to some traditional Irish literature or have some fun with your friends and volunteer to be the designated driver. Fun is fun, and drinking doesn't necessarily have to a part of it.
Rock out with the Dropkick Murphys
It's hard to deny that Irish music is catchy as all get-out, and there's no better time to jam to some Celtic-inspired tunes than St. Patrick's Day. If you enjoy punk/rock music and find yourself around Massachusetts between March 14th and March 17th, you might be able to catch Dropkick Murphys; perhaps the most iconic Celtic rock band of all time.
Even if you're not immediately familiar with their name, you'll almost certainly recognize the song "I'm Shipping up to Boston" from flicks like the Academy Award-winning film "The Departed." Dropkick Murphys will perform at the House of Blues in Boston, MA, on March 14th, and the 15th, as well as the House of Blues in Lowell, MA, on the 16th. If you're lucky enough to be in Boston on the 17tth, you'll be able to catch them at the House of Blues on St. Patrick's Day.
Enjoy some traditional Irish food
Some people have a hard time differentiating Scottish and Irish culture and cuisine. But if you're looking for a culinary way to celebrate everybody's favorite Irish holiday, you and your family can indulge in some Irish stew — traditionally composed of lamb and root vegetables — or a classic shepherd's pie.
Whether you're of Irish descent, enjoy good food, or just want to have a good time with your family, St. Patrick's Day is the perfect time to let loose and enjoy yourself. Just make sure to wear a bit of green, or you might get pinched.
This article is presented by %%dealer_name%%.