4 Martial Arts Schools in Minnesota and Wisconsin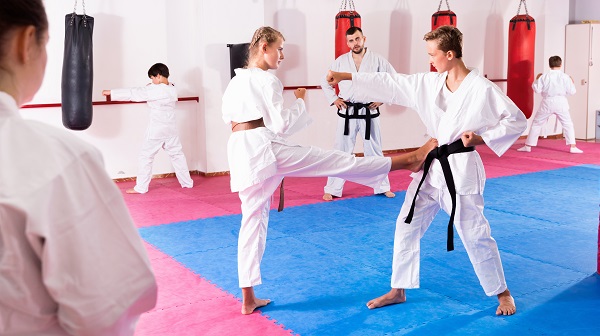 Martial arts schools offer programs that are beneficial for the whole family. At the martial arts schools in Minnesota and Wisconsin, you and your loved ones can improve your physical fitness, while also incorporating important values into your lives.
The Academy (Minnesota)
The Academy
has been teaching martial arts for more than 30 years. As such, their Brooklyn Center school has experience helping students lose weight and learn self-discipline. The positive atmosphere of The Academy also reduces the stress of working out and gives you more confidence. Combining contemporary and traditional martial arts, the adult programs include thai kickboxing, Brazilian jiujitsu and self-defense. To better hone your skills, you can also sign up for personal training sessions, which specifically focus on your needs and wants. Children aged 4 to 13 can learn karate, muay thai, jiujitsu and Brazilian jiujitsu.
Southern Minnesota Martial Arts (Minnesota)
Located in North Mankato,
Southern Minnesota Martial Arts
provides a safe environment for people of all ages to learn martial arts. You can learn to defend yourself with krav maga, jiujitsu, taekwondo and kickboxing. While training, you can also improve your endurance and flexibility as well as your self-control and perseverance. The children's programs teach taekwondo in a way that's exciting and provide a great workout. Plus, in the summertime, you can drop your little ones off at summer camp, where they can learn sword sparring and make new friends. Children can also attend daycare to develop their motor skills.
Red Schafer MMA (Wisconsin)
Owned by nine-time Ultimate Fighting Championship Veteran, Eric "Red" Schafer,
Red Schafer MMA
teaches mixed martial arts in a UFC style. Adults also have the opportunity to take Brazilian jiujitsu, boxing and wrestling programs, while children can learn self-defense in Brazilian jiujitsu classes. On each Monday, Wednesday and Friday, the Milwaukee training facility offers a Breakfist Club, where students can practice on an open mat early in the morning. The classes here are also unlimited for members so you can train as much or as little as you like. If you want to learn more about the programs before joining the school, you can take free classes for a week before signing up.
Martingilio Martial Arts (Wisconsin)
Martingilio Martial Arts
in Madison is capable of teaching students of all ages and fitness levels. Adults can sign up for programs focused on Ryukyu Kempo, tai chi, modern arnis and self-defense. Meanwhile, children can learn karate as well as leadership skills in classes. The children's program can also accommodate children with special needs. The movements you and your loved ones learn in classes can be effective in real-world situations and have useful health benefits. The instructions are also friendly and personalized to students so everyone can practice while having an enjoyable time.
No matter your experience with martial arts, you can better yourself inside and out at these schools in Minnesota and Wisconsin. Contact each martial arts school to discover which one can best meet your needs.
This article is presented by Zimbrick European.