Vehicle Details: 2019 Chevrolet Corvette Stingray Performance
The Corvette Stingray offers raw yet adaptable performance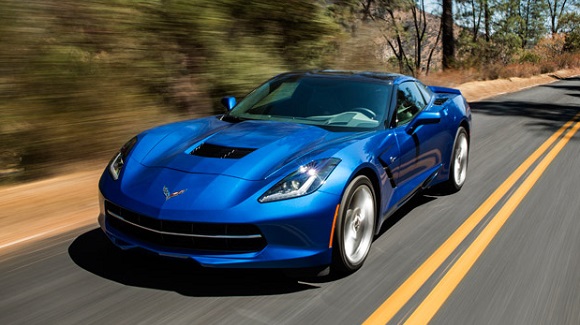 The Chevrolet Corvette Stingray has long been the face of affordable American track performance. For a starting cost under $60,000, you can get behind the wheel of a car that will speed 0-60 mph in 3.7 seconds and that puts you at the center of the action with a driver-oriented cockpit. Though the Stingray is the lowest-priced and most widely available Corvette model you can buy, it still packs a punch.
V8-powered
The 2019 Chevrolet Corvette Stingray uses a 6.2-liter V8 to put out 455 horsepower and 460 lb-ft of torque, though both of those figures can be raised by five each with the active exhaust system option. Your choices of transmission are a seven-speed manual or an eight-speed automatic, both of which have their merits. The manual comes with Active Rev Matching to ensure you never get out of sorts on rapid downshifts, while the automatic features paddle shifters, allowing you to keep your hands on the wheel as you manually go up and down the gears. Whichever you choose, engine responsiveness and power is nothing short of phenomenal, with acceleration from 0-60 mph just two-tenths short of 3.5 seconds.
Total control
Taking off like a rocket is all well and good, but only if you can stop again. Fortunately, the 2019 Chevrolet Corvette Stingray comes equipped with standard Brembo
®
brakes to ensure maximum stopping power, as well as 19-inch front and 20-inch rear wheels wrapped in Michelin
®
Pilot
®
Super Sport ZP summer-only tires to provide the utmost grip and control. Even more valuable is the available Magnetic Selective Ride Control™, an advanced suspension system that can read the road every millisecond and almost instantly adjust its own damping forces. This allows the Corvette Stingray's suspension to be stiff and racy when it needs to be and comfortably soft otherwise.
Performance command center
The 2019 Chevrolet Corvette Stingray puts you in control of your experience. With the Driver Mode Select dial, you can choose from five driving modes — including Tour, Sport and Track — that calibrate up to 12 performance variables on the fly, helping your Corvette Stingray stay on top of the conditions. You can also configure the 8-inch instrument cluster display and the available head-up display to show the information you want while racing around the track, such as speed, tire temperatures and g forces. With the Performance Data Recorder, you can play back your best laps and analyze your performance data to help you be even better the next time out.
The Chevrolet Corvette Stingray has long been a favorite among car enthusiasts and for good reason. Its combination of style and raw yet adaptable performance is hard to beat, and for 2019, the Stingray is in its best form yet.
This article is presented by Jennings Chevrolet.