Refreshing Summer Treats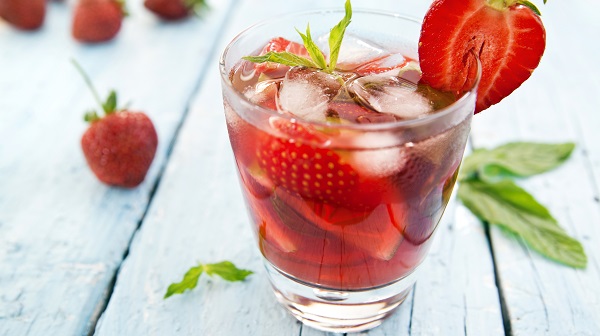 Craving something a little more wholesome than store-bought frozen treats and ready-made desserts? If you want to shake up your summer snack menu, check out these recipes for fresh, fun and easy treats. Whether you're looking to add a sweet treat to your family cookout or kick back with a frosty beverage, these recipes are perfect for chasing away a culinary case of the summer doldrums.
Fruit fools
Look past the silly name because you won't feel like a fool after whipping up this tasty dessert with just a few ingredients. Midwest Living magazine advises using 1 1/2 cups of easy-to-puree fruit — like berries, kiwi or mango — blended with 1-2 tablespoons of sugar, according to taste. Then, in a separate chilled bowl, combine 1 cup of heavy whipping cream with 1 teaspoon of vanilla extract and 2 tablespoons of sugar. Using an electric hand mixer, whip the cream mixture until stiff, airy peaks form. Fold in the sweetened fruit with a rubber spatula, but don't mix it until combined — the colorful marbled swirls are part of the fruit fool's signature appeal. Serve immediately in small glasses or cover and chill for two hours before serving.
Grilled peaches
Burgers and hot dogs are a staple of most summer cookouts, but the grill can do more than give meat a savory, smoky flavor. Food blogger and cookbook author Gaby Dalkin recommends grilling up peaches or nectarines for a sweet summer treat. Cut the peach in half and remove the pit. Then brush the flesh of the halves with a light coating of neutral flavored cooking oil, like canola. Place the fruit cut-side down on a grill heated to medium-high and rotate them 90 degrees after a minute or two of cooking. Doing this will create stunning, cross-hatch grill marks on the fruit. After a total of 3-4 minutes on the grill, you'll have caramelized peaches that pair perfectly with a dollop of vanilla or fruity ice cream.
Lemon ice
Tart, tangy and refreshing, this delightful frozen drink from Woman's Day magazine takes lemonade to the next level. Just boil 3 cups of water with 1 cup of sugar until it is fully dissolved. Once the mixture has cooled, stir in 1/2 cup of fresh lemon juice and 1 tablespoon of lemon zest for an extra kick. If you'd like to put a grown-up twist in this treat, add 1/2 cup of limoncello liqueur to the mix. Pour the concoction into a 9-by-13-inch baking pan and freeze it. After one hour in the icebox, stir the mixture to break up large ice crystals. Continue to freeze for two additional hours. When you're ready to enjoy your lemony treat, scrape it out of the pan and serve in a bowl or cup.
Kiwi ice pops
Go beyond run-of-the-mill frozen novelties and try these colorful homemade kiwi ice pops. Created by Country Living magazine, these simple treats only require some sugar, fruit, water and lime juice. To start, grab a saucepan and add 1 cup each of sugar and water. On medium heat, stir the mixture until combined and lightly boiling. Remove the pan from heat and allow it to cool. Prepare four kiwi by removing the peel, seeds and core before pureeing the bright green flesh in a food processor for 1 minute or until it's liquid. Mix the fruit puree with 3/4 cup of water, 1/2 cup lime juice and the cooled syrup. Then pour into the frozen pop mold of your choice. Freeze for at least six hours and enjoy.
From kid-friendly fare to icy cocktails, these are just a few tasty ways to put a new spin on some classic summer desserts. Give them a try and see if your family finds a new favorite!
This article is presented by Hardin County Honda.