Take a Sweet Break in Zurich, Switzerland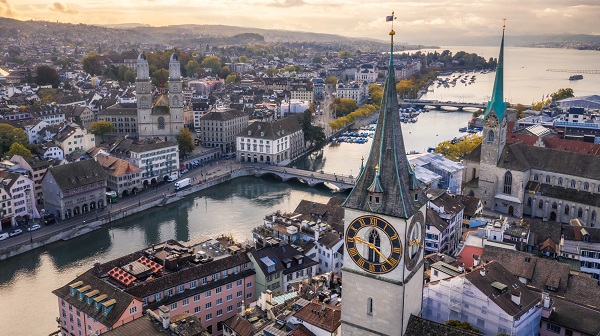 When you're heading overseas, consider stopping in Zurich, Switzerland. One of Europe's financial hubs, the wealthy city offers opportunities to explore its past and enjoy the comforts of the present. It certainly doesn't hurt that it's famous for decadent chocolate, perfect for a vacation treat.
What to do
Switzerland is known for its chocolate, and there are several opportunities to sample its tastiest export. One of the city's most famous stores is
Spruengli
, and you can head to one of its boutique stores in the city. For a look at smaller artisan chocolatiers in the area, consider tours like the
Sweet Zurich tour offered by MyKugelhopf
that take you around the city to sample offerings from several vendors. If you're a true chocolate devotee, you can take the ultimate step and ride
the Chocolate Train
. It's not made of the sugary confection, but it's an organized tour to the Cailler chocolate factory and a Gruyeres cheese facility on a luxury train and coach (where you can also nosh on coffee and chocolate bread). It departs from Montreux in the south, but it's truly worth it if you have time.
While Zurich is a modern city, it has taken good care of its historic areas. Head to the city center to experience The Old Town, or Altstadt. You can sign up for walking tours or explore it on your own. Some of the highlights include
the Bahnhofstrasse
, an upscale shopping district that used to be part of the moats protecting Zurich, and
St. Peter
, the oldest parish church in the city and home of the largest clock face in Europe.
Where to eat
Zurich has more than just sweets for your visit. If you're looking to sample some of the best examples of Swiss cuisine, visit the
ECHO Restaurant
. It's ideal if you want to eat fondue while in Switzerland, the birthplace of the melty cheese experience, or enjoy other regional dishes. The
Walliser Keller restaurant
also fits the bill, offering staples like fondue, crispy chicken and sirloin that you can enjoy while people-watching on the terrace or surrounded by a rustic Swiss interior.
Since Zurich is an international city, there are other cuisines that pop up in the area. One of its top-rated restaurants – and most expensive – is the
Restaurant Pavillon
. It serves dishes from all over Europe made from the finest ingredients and presented like small works of art. Chef Laurent Eperon and his staff recently won the restaurant its second Michelin star. For a taste of Asia, visit
Restaurant Nihao
and enjoy the menu of Chef Yongping Yan. The food is offered buffet-style with special dishes available to order for your table. The site claims that it's an ideal choice for both business people and families, so this could be a great option if you have younger travelers.
Where to stay
When you're ready to drift off to sleep. Zurich has many luxurious hotels you can pick from. For a view of Lake Zurich, consider staying at the Baur au Lac. This five-star hotel has deluxe suites and rooms to spread out in, and the onsite restaurants include the previously mentioned Restaurant Pavillon. The staff will do everything to make your stay enjoyable, especially with the available IT butler, in-house florist and medical massage or physiotherapy amenities.
For a hotel stay that mixes luxury with history, check in at
the Widder Hotel
in the Old Town area. The 49-room establishment is in a restored 12th-century building. Each room is different, with some looking more modern and others showing off exposed beams and aged woodwork. When you need a break in the afternoon, tea at the Widder has a Japanese twist, featuring dishes like matcha profiteroles.
Whether you're looking for a stop on a whirlwind international tour or somewhere to enjoy for a longer stay, consider adding Zurich, Switzerland to your list.
This article is presented by O'Brien Lexus of Peoria.