Tips for Planning Your Next Camping Adventure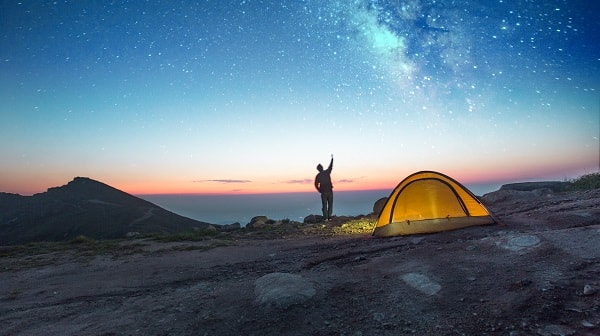 A camping trip is just what many people need to escape from the hustle and bustle of the daily grind. Still, if you've never gone camping before, you may be surprised at just how much preparation is required for your outdoor excursion. Fortunately, even first-time campers can start off on the right foot if they follow these expert tips for planning a camping trip.
Determine where you want to camp
Before you even start planning out your camping excursion, you will need to pick a destination for your trip. Some of the most popular camping spots include national and state parks, although private campgrounds are common destinations, too.
You'll want to pick a camping destination well ahead of time. According to National Geographic, state parks and national parks open up reservations for campgrounds months ahead of any given date. The most popular of these campgrounds can fill up with reservations rather quickly, so Laura Fenton of Parents says to book a site for your trip as soon as you have determined where you want to go.
Create a schedule for your trip
After picking out a camping destination, your next step should be to set up a schedule. Jessica Sanders of Active says that the activities you take part in during your trip should reflect the camping destination that you have chosen. For example, if you're camping near the mountains, consider hiking to see some of the area's most breathtaking views.
Your daily activities aren't the only aspect of your trip that you should schedule ahead of time. Sanders also suggest that you plan out meals, as staying well-fed during your outdoor adventure is a high priority.
Determine your lodging arrangements
As the date of the trip approaches, you'll want to make sure you have the right gear for your camping excursion. First and foremost, you'll want to figure out your lodging situation. Many campsites offer plenty of room for RVs, but if you want to rough it in the great outdoors, a tent is your best option. REI states that the bigger the tent is, the better if you're bringing along your whole crew. Many campers don't realize just how much room they'll need during their camping trip until it has already begun, so it's better to end up having more room then you think you'll need.
Pack the right supplies for your trip
A tent isn't the only piece of equipment that you'll need to pack for your trip. REI states that other equipment that campers should bring along include a sleeping bag, cookware, sources of lighting, toiletries and medical supplies. You'll also need to carefully consider what kind of food you'll want to pack for your trip. Sanders says that you should prep some of your meals ahead of time, so that way you'll have less to worry about during your trip. Most importantly, never leave food out where nearby wildlife can get ahold of it.
Find a balance between overpacking and underpacking
One of the issues that campers struggle with the most is finding a balance between overpacking and underpacking. Mary Forgione and Denise Florez of The Los Angeles Times state that while some camping gear might seem unnecessary at first, you'll never know when you might encounter a situation where you'll need it.
With that said, Fenton warns that you shouldn't overpack with supplies you'll never end up needing during the trip. You can leave stuff like swim gear at home if you don't plan on visiting a lake or beach , and you won't need hiking gear if the area you're camping at is rather flat.
Perhaps most importantly, try not to fit too many activities into your camping trip. This will ultimately stress you out, and a camping trip should be all about relaxation. Fortunately, if you follow these camping prep guidelines, you should be able to start your trip with a little less of that stress.
This article is presented by East Hills Chrysler Jeep Dodge Ram