Superfood Smoothie Recipes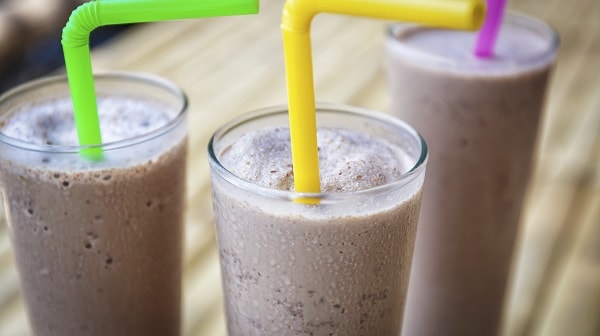 When you're in a hurry but want to eat healthy foods, reach for a smoothie. The drinkable meal provides multiple servings of the foods you need and only takes a couple minutes to prepare at home. Here are some ways you can make smoothies your breakfast or lunch every day.
Rules to follow for healthy smoothies
Smoothies are a great meal option that will fill your body with nutrients and help you eat less to control your weight. But that doesn't mean you can put just anything into a blender and have it turn into a healthy drink. You have to include the proper ingredients.
Manuel Villacorta of Fox News recommends including more vegetables than fruits in your smoothies to prevent blood sugar spikes. Including nut milk, nut butter or avocados in the smoothies ensures you're still receiving important fats to absorb fat-soluble vitamins. Throw in a couple spoonfuls of no-sugar plant protein powder to make the drink more filling. It's up to you how you customize your smoothies, but you can start with any of these recipes that incorporate nutrient-rich superfoods.
Fruits and veggies
Villacorta offers his favorite smoothie recipe, which he calls his Ruby Red Power Smoothie. Blend together 1 cup of fresh strawberries, 1/2-cup of pineapple chunks, 1/3-cup raw chopped beets, 1/4-cup of sliced carrots, 1 cup of peeled cucumber slices, 1-1/2 cups of coconut water, 1 tablespoon of chia seeds, 1 tablespoon of lucuma powder and the juice from half of a lemon.
Melissa Stadler shares many superfood smoothie ideas on her food blog Modern Honey. One of her healthiest suggestions is the Youthful Glow Green Smoothie. Blend together 2 cups of kale, 2 cups of baby spinach, 2 cups of apple juice, a half of a cucumber, one banana, 1 teaspoon of freshly grated ginger, the juice from half of a lemon and a handful of ice.
Dessert smoothies
Food blogger Aysegul has many unique smoothie recipes that can substitute for an after-meal dessert—or the meal itself. One of her most creative combinations is a banana-free carrot cake smoothie. She recommends blending 1/4-cup of unsweetened raisins, a small head of chopped romaine lettuce, 1-1/2 cups of peeled carrot chunks, 1 cup of pineapple cubes, 1/2-teaspoon of vanilla extract, 1/4-teaspoon of cinnamon, 1 cup of ice and a pinch of nutmeg. The only preparation you need to do is boil the raisins in water for 10-15 minutes to soften them and make them juicier. You can garnish the poured smoothie with chopped pecans and unsweetened coconut flakes.
What's a dessert without chocolate? Indulge your sweet tooth without neglecting healthy ingredients by mixing this dairy-free chocolate peanut butter smoothie from Laura of Joy Food Sunshine. Blend together 1-1/4 cup of unsweetened almond milk, 2-1/2 tablespoons of chocolate protein powder, 1 tablespoon of unsweetened cocoa powder, 1 tablespoon of peanut butter powder, 4 cups of spinach and half of a frozen banana.
With any of these superfood smoothie recipes, you can adjust the ratios and swap out ingredients to keep your smoothie rotation fresh and interesting. Just make sure you don't skimp on the less-yummy yet healthier components.
This article is presented by Capistrano Volkswagen.