Vehicle Preview: 2021 Toyota GR Supra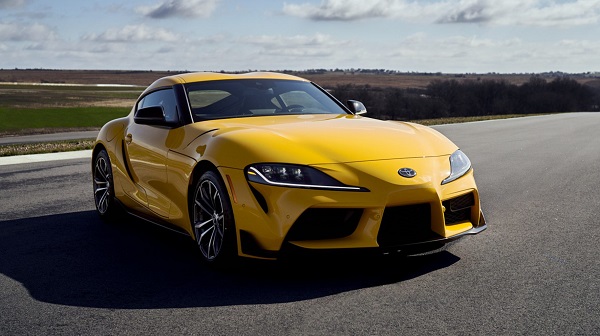 It's not typical for automakers to launch a significantly new version of a car that just entered a new generation, but Toyota has done just that with the 2021 Toyota GR Supra. Last year saw the highly-anticipated return of the Supra, and only a year later, Toyota has made some remarkably substantial changes to its iconic sports car.
New four-cylinder model
For the 2021 model year, the Toyota Supra gets a brand new trim level called GR Supra 2.0. It boasts an all-new four-cylinder engine that uses direct fuel injection, a twin-scroll turbocharger and continuously variable timing on both the intake and exhaust camshafts. The engine is rated at 255 horsepower and 295 lb-ft of torque, with power routed to the rear wheels via an 8-speed automatic — the same as on the Supra 3.0 models.
The automaker says that because of the four-cylinder's compact size, it was able to move it further back in the engine compartment to achieve a perfect 50/50 weight distribution between the front and rear of the car. The four-cylinder Supra is also more than 200 pounds lighter than the six-cylinder models, so expect great handling and fuel economy. However, it doesn't have the active differential or adaptive suspension used on the 3.0 model.
The 2021 Toyota GR Supra 2.0 is expected to be the most affordable of all the Supra models, and in hindsight, it shouldn't be surprising that Toyota introduced it. After all, it parallels the same two-tier performance lineup of the old-school A70 and A80 Supra models.
More powerful six-cylinder engine
The 2020 Toyota GR Supra was no slouch, but it's already getting faster. For the 2021 model year, Toyota not only introduced a new four-cylinder engine but also boosted the power output of its existing engine. The Supra 3.0's turbocharged 3.0-liter inline six-cylinder will make 382 horsepower and 368 lb-ft of torque, up a significant amount from 335 hp and 365 lb-ft.
Toyota says it managed this by redesigning the pistons and expanding the dual-branch exhaust manifold, which has helped to reduce the compression ratio and improve heat management, respectively. As a result of these revisions, the 2021 Toyota Supra 3.0 also maintains higher torque at higher revs, and the automaker expects the car's 0-60 mph acceleration time to drop from 4.1 seconds to 3.9 seconds.
Exclusive edition and new features
Last year, the 2020 Toyota Supra launched with a limited number of First Edition models. This time around, the 2021 Toyota Supra is getting the exclusive GR Supra A91 Edition, which will be limited to only 1000 units — 500 finished in Nocturnal and 500 in Refraction. The A91 Edition models are based on the 3.0 trim and add 19-inch matte black wheels, carbon fiber mirror caps, satin black graphics and a unique satin black, carbon fiber rear lip spoiler. Inside, the A91 Edition will feature a mix of black leather and black and blue Alcantara
®
, with blue stitching providing further contrast.
New for the 2021 model year, all Supra models will also be available with a Safety and Technology package that includes dynamic radar cruise control, rear cross traffic alert, blind spot monitoring, parking sensors with emergency braking, wireless Apple CarPlay
®
compatibility and a 500-watt JBL
®
audio system with 12 speakers.
The Supra sports car made a strong impression when it returned last year, but Toyota is clearly not resting on its laurels. When it launches, the 2021 Toyota GR Supra will set a new standard for lightweight sports cars around the world.
This article is presented by Krause Toyota.