Family-friendly Winter Activity Ideas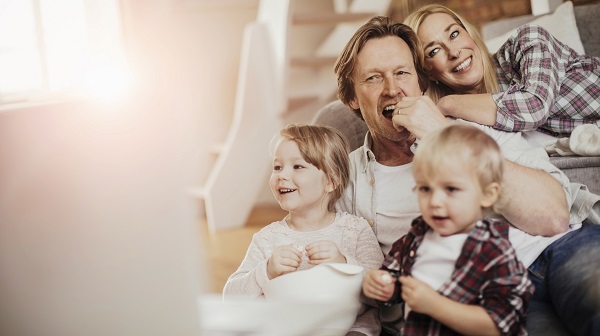 Less daylight, lower temps and freezing precipitation can force anyone into hibernation. Don't let winter and its unique challenges get you and your family down, though. Embrace the season and all its frigid glory with the following list of family-friendly activities.
Bundle up for outdoor fun
Yes, it is cold outside and everything may be covered in snow, but that's part of the fun when you gather your family to explore the great outdoors in winter. If snow has fallen, grab your sleds and conquer a snow-covered hill, build a snowman, make snow angels or have a snowball fight. Lace up your skates and spin around your community's ice rink or keep it simple with a walk around the neighborhood, especially fun when holiday lights and decorations are up. Check the schedule for area winter festivals or carve out some ice and try ice fishing. Toasted marshmallows are super sweet in winter and a gathering around your backyard fire pit will keep you and your family warm while you take in the beauty of a wintery night sky.
Head indoors for warmth
When the weather is frightful, enjoy some family togetherness with a movie night, complete with yummy treats like popcorn and hot cocoa. Make sure everyone changes into comfy pajamas before you hit play. Spend the afternoon or evening exercising your competitive spirits with your favorite board games or rounds of charades. Preheat the oven and bake your family's favorite treats. Whether cupcakes, cookies or cake, time spent in the kitchen will serve up delicious results. Make story time a winter priority by sharing your family's favorite books or spend some time strolling down memory lane. As a family, look through family photos and relive the fun times or share stories that your kids might not know. Stretch your creativity with a crafting session — bust out the crayons, markers and art supplies to create custom holiday cards, ornaments or pictures to commemorate your family day. Keep cabin fever at bay with an impromptu dance party. A pillow and blanket fort-build is a must during winter and now is the time for an epic LEGO
®
brick-build, too.
Indoor fun doesn't have to be limited to your address — take your family bowling, roller skating or indoor rock wall climbing. A trampoline-themed center will have you and your family jumping for joy while a visit to a children's museum will keep your minds engaged.
Spread joy to others
Celebrate the season of giving by finding ways to give to others. You and your family can organize a coat, toy or food drive to help those in need in your community. Scour the house for items like books, clothes and toys you can donate to local charities or offer your assistance with shoveling your neighbors' sidewalks. Volunteer together. Local food banks, animal shelters and other organizations will definitely appreciate your helping hands. You can even help nourish your feathered friends by making a peanut butter- and birdseed-covered bird feeder out of pine cones or cardboard rolls.
Whether you're outside celebrating the chill or inside hiding from it, these activities will keep you and your family having fun all winter long.
This article is presented by Zimbrick European.