Crispy Oven-Baked Barbecue Chicken
A simple way to cook a restaurant-quality chicken dinner at home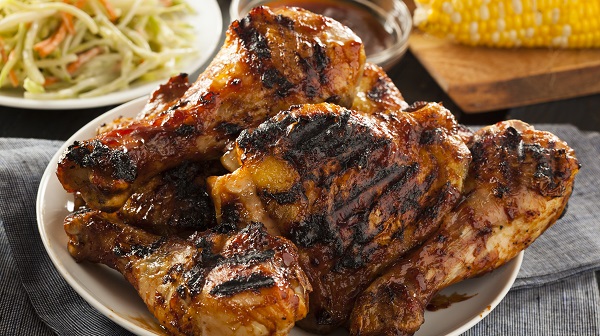 Nothing tastes better after a hard day's work than biting into a juicy, savory barbecue chicken leg that blasts your mouth with sweet, tangy flavor. You don't have to eat at a restaurant to devour this piquant poultry. You can make it yourself in a basic oven. On her cooking blog, Bowl of Delicious, Elizabeth Lindemann claims to have the best recipe for oven-baked barbecue chicken. On top of perfect flavor and crispiness, it only requires a couple basic ingredients and hardly any prep time.
What you'll need
Making stellar barbecue chicken starts with stellar-quality meat. Elizabeth recommends skipping the frozen, boneless or skinless cuts at the grocery store. Instead, go to the meat section and find a couple pounds of bone-in, skin-on chicken. It can be a mix of thighs and legs, as long as the meat is fresh. These have dark meat on them, which is juicier and more succulent than white meat. Eight good-sized pieces should feed a family of four (as long as you pair the chicken with a couple side dishes).
You could make your own barbecue sauce from scratch — and there are some great recipes online for doing that — but Elizabeth recommends saving the time and simply buying a bottle of your favorite sauce from the store. The ones that work best for this recipe have a lot of sugar in them so they're thick and caramelize on the meat. For the other necessary ingredients, round up some olive oil, salt and pepper from your pantry.
The best way to bake
Getting the full flavor from the chicken requires a specific method of baking it. Elizabeth outlines it in detail.
Pat the raw chicken dry with a paper towel, and then coat lightly with olive oil, and sprinkle salt and pepper. Spread the pieces out on a rimmed baking sheet, and then slide it in a 400-degree oven. After 25 minutes have passed, remove the tray and place it on a hot pad. Crank the heat up to 425 degrees.
Now is when you coat the chicken in barbeque sauce. The best way to apply it is a basting brush. You'll need to coat both sides thoroughly, so flip the chicken delicately, being careful not to tear the skin. The oven should be hotter now, so place the chicken back in and bake for another seven minutes.
After that time has passed, remove the chicken and baste it again. Do this once more in another seven minutes so you've coated the chicken three times. After seven final minutes, the chicken should be nice and crispy on the top, but soft and juicy inside. If the chicken is 165 degrees, it's ready to serve.
This simple, cost-efficient way to make barbecue chicken is great for parties and feeding large families. You can make multiple trays of chicken at once to feed groups. Make sure you cook enough for everyone — they'll all want seconds!
This article is presented by North Park Lexus of San Antonio.