Vehicle Profile: 2021 Mercedes-Benz GLB SUV
2021 GLB SUV delivers style and substance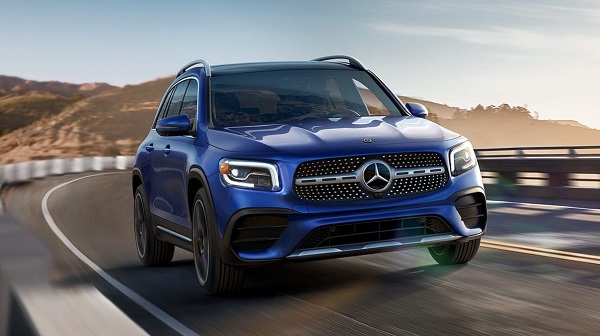 On paper, the 2021 Mercedes-Benz GLB SUV is just another luxury compact crossover. It's slightly larger than the GLA but slightly smaller than the GLC, with a stylish boxy design reminiscent of the GLE and G-Class SUVs. But unlike the GLA and GLC, the 2021 GLB offers a third row of seating, which makes it more than just another compact crossover — because in this increasingly crowded and increasingly competitive segment, anything that stands out is a plus.
Comfort and infotainment
Despite the 2021 Mercedes-Benz GLB SUV's compact dimensions, it's impressively spacious for both passengers and cargo. Tall passengers have plenty of headroom to enjoy, even with the optional panoramic sunroof that slightly reduces overall interior space. Behind the second-row seats are 20 cubic feet of cargo room, which grows to 62 cubic feet with all seats folded flat, giving the 2021 GLB cargo-hauling utility on par with SUVs in the next segment up. Further enhancing comfort are dual-zone climate controls, heated and ventilated seats, luxurious leather upholstery, and interior ambient lighting.
Standard screens include a 7.0-inch digital gauge display and a 7.0-inch touch screen, while dual 10.3-inch displays are available along with a color head-up display. Smartphone users will also appreciate the inclusion of Apple CarPlay
®
, Android Auto
™
, and Bluetooth
®
connectivity as well as four USB-C ports and a wireless charging pad.* And with the trigger phrase "Hey, Mercedes," the 2021 GLB SUV turns into a veritable command center ready to accept your instruction.
Performance and efficiency
Any vehicle sold with the Mercedes-Benz badge wouldn't live up to expectations if it wasn't fast, and the 2021 GLB SUV works hard not to let the brand down. Under the hood is a 2.0-liter four-cylinder engine rated at 221 horsepower and 258 lb-ft of torque, with all of that torque on offer at just 1,800 RPM. When you combine that with 4MATIC
®
all-wheel-drive and a quick-to-respond eight-speed automatic transmission, you get an SUV that passes other cars and climbs steep hills with ease. Via the drive mode selector, you can also adjust the 2021 GLB's steering feel, transmission responsiveness, and adaptive suspension dampening to be more aggressive or more comfortable. Fortunately, despite the 2021 GLB's impressive performance, it's still pretty efficient, earning an EPA-estimated 23 mpg in the city and 31 mpg on the highway.**
Driver-assistive features
The 2021 Mercedes-Benz GLB SUV is on the cutting edge of driver-assistive features. On top of the usual safety features, like adaptive cruise control, lane-keeping assistance, and active blind spot assistance, the 2021 GLB is equipped with such features as Active Brake Assist, Crosswind Assist, and ATTENTION ASSIST
®
. Active Brake Assist can help bring the SUV to a stop to avoid a collision with other vehicles or pedestrians, while Crosswind Assist uses a combination of vehicle systems to counter the effects of strong winds — including those created by passing trucks. Meanwhile, ATTENTION ASSIST
®
is dedicated to ensuring you are not too drowsy to be driving, which it does by monitoring up to 70 parameters. If the system thinks you're not paying enough attention to the road, it will encourage you to take a break.
For customers wading through a confusing sea of compact crossovers, the 2021 Mercedes-Benz GLB SUV is a rewarding find. Its industry-leading technologies, impressive spaciousness, and luxurious comfort help it not just to stand out but to establish it as a benchmark for the segment.
*Bluetooth is a registered trademark of Bluetooth SIG, Inc.

**EPA estimated fuel economy. Compare the estimated mpg to the estimated mpg of other vehicles. You may get different mileage depending on how fast you drive, weather conditions and trip length. Your actual highway mileage will probably be less than the highway estimate.
This article is presented by Autohaus on Edens.