Vehicle Profile: 2022 Chevrolet Camaro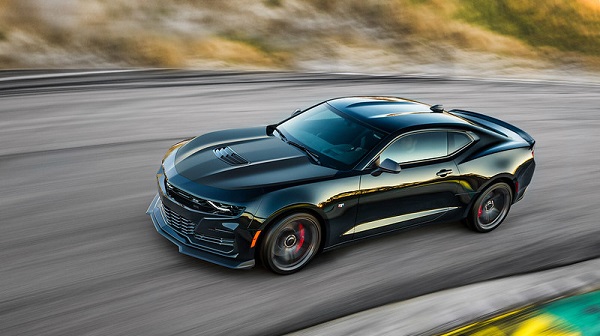 Driving shouldn't be boring. If you feel like it is, odds are you're driving the wrong car. When you're behind the wheel of the Chevrolet Camaro, every drive is a thrill — no matter where you're headed. Check out what the latest Camaro brings to the streets.
A look that can't be overlooked
What makes the Camaro so mesmerizing are its bold design and sleek visual flairs. Whether you're looking at the coupe or the convertible, the Camaro's low stance, wide fascia, and lean body exude charisma — something that's always been characteristic of Chevy's iconic sports car. Choose an exterior color that fits your personality. New this year are Rapid Blue and Vivid Orange Metallic, or you can stick with classics like Red Hot, Shadow Gray, or Satin Steel. Upholstery colors include Jet Black, Ash Grey, Ceramic White, and Adrenaline Red. Whichever combination you prefer, you can bet that the Camaro will look good in your driveway.
More packages than you can shake a gear stick at
You can further personalize your 2022 Camaro by upgrading it with one of the handful of enviable style and performance packages. The ZL1 1LE Extreme Track Performance Package gives the top-of-the-line ZL1 the best performance upgrades available for the Camaro, including a new copper-free brake system, a front splitter, top-quality front and rear Brembo brakes, a rear wing, and a carbon-fiber hood insert. The 1LE Track Performance Package adds many of the same elements to the Camaro SS. The RS package adds a handful of flashy touches to the LT or LT1 models. The three available design packages are where the Camaro's looks shine. Each group of visual accents give the sports car extra visual flair with touches like silver stripes, metallic accents, carbon fiber inserts, and polished forged-aluminum wheels.
Special editions that are truly exceptional
If you're not satisfied with all of those generous options, you can make your Camaro even more unique with either of the two special editions available for 2022. The Shock and Steel edition is definitely the more visually audacious of the two, adding a high-wing spoiler, Carbon Flash Metallic accents, and racing-inspired yellow stripes down the hood, spoiler, and brakes. The Redline edition is no less impressive, adding special red graphics inside and out, from the mirrors to the seatbelts.
Take the reins and feel the horsepower
You have four engine options on the 2022 Camaro, and all of them put performance at the forefront. Even the basic 2.0-liter Turbo engine produces 275 horsepower and can launch the car from a standstill to 60 mph in 5.5 seconds. When you aren't putting the pedal to the metal, you can conserve gasoline with that four-cylinder engine, as it averages 30 mpg on the highway.[1] A step up in power and size is the 335-horsepower 3.6-liter V6 engine with slightly faster acceleration. The 6.2-liter LT1 V8 is even more hearty, churning out 455 horsepower and shaving more than a second off that 0-60 time. The king of the hill is the 6.2-liter LT4 V8 that's bolstered by a 1.7-liter Eaton
®
supercharger. Standard on Camaro ZL1, this massive machine cranks out 650 horsepower and makes the car a blur in motion. With as much power as the Camaro holds under its hood, it's nimble on the road and track thanks to an abundance of available handling boosters, like Magnetic Ride Control
™
and a Performance suspension with DSSV
™
dampers.
With an affordable base price and a wide array of configurations for the 2022, the latest Camaro is thrilling in more ways than one. Take this rear-wheel-drive sports car for a spin and see why it's still a living legend.
[1] EPA-estimated MPG city/highway: Camaro LS/LT with 2.0L 4-cylinder engine and 8-speed paddle-shift automatic transmission 22/30; Camaro LS/LT with 2.0L 4-cylinder engine and 6-speed manual transmission 19/29.
This article is presented by VanDevere Auto Group.