Vehicle Profile: 2020 Honda Civic Type R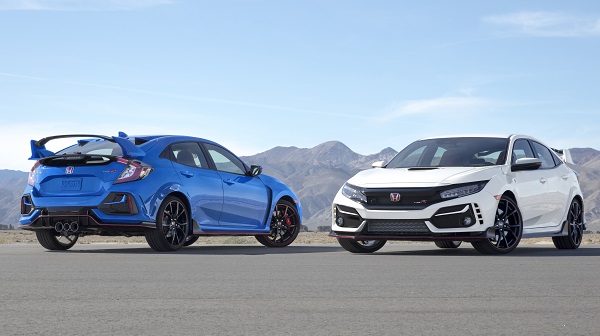 For the 2020 model year, the Honda Civic Type R has been restyled and retuned for extra enjoyment. Designed to represent the legacy of Honda's racing heritage in road-going form, the Civic Type R delivers a lightweight, high-performance driving experience that's sure to thrill.
Racing-inspired performance
Every 2020 Honda Civic Type R uses a turbocharged 2.0-liter VTEC
®
inline four-cylinder developing 306 horsepower and 295 lb-ft of torque. The engine itself boasts an iconic Honda Racing red cover — anyone with motorsports knowledge peering inside the engine bay will instantly know the significance of that color. A good engine, however, isn't everything. The Civic Type R uses a lightweight chassis and all-aluminum hood to shed weight while improving rigidity. Further weight-saving efforts have brought the hatchback's curb weight down to just over 3,100 pounds. Combine that with the unique dual-axis MacPherson strut front suspension and adaptive damper system, you can expect nimble, agile handling at every corner, and robust off-the-line power and grip. There's also Brembo
®
brakes, a limited-slip differential, aerodynamic vortex generators, an underbody spoiler kit and air curtains to help ensure you get the best possible performance on the road and at the track. And if improvement is your goal, the Honda LogR™ datalogger system will analyze all your relevant datapoints as you attempt to shave time off your laps.
Cabin connectivity
When you get behind the wheel of a car like the 2020 Honda Civic Type R, you may often find yourself tempted to make the drive go on a little longer than necessary. To, perhaps, take a rather circuitous route to your destination. Or to simply go on a joyride where there is no destination, but simply the enjoyment of the journey. Whatever it may be, wherever you end up going, the Honda Civic Type R ensures you can stay connected to the rest of the world. Apple CarPlay
®
and Android Auto™ smartphone integration help you tap into the power of your smart device through the 7-inch Display Audio touch screen, making it easy to access your favorite apps and use the power of your voice to send or receive messages. The Civic Type has other neat features you can enjoy on any drive too, like the Satellite-Linked Navigation System and its 3D maps, or the multi-angle rearview camera that makes squeezing into tight spots a breeze.
Honda Sensing® safety
Whether you're alone in your 2020 Honda Civic Type R or have passengers to impress, safety is paramount. That's why the hot hatch gets the Honda Sensing
®
suite of driver-assist and safety technologies as standard equipment. Its primary feature is Collision Mitigation Braking System™, which can automatically bring your Civic Type R to a stop if it detects an imminent frontal collision. Another feature is Road Departure Mitigation*, which can sense unintentional road departure and take steering or even braking action to help you stay on the road. Honda Sensing
®
also comes with a Lane Keeping Assist System that keeps your car centered in its lane, and Adaptive Cruise Control** for a more relaxed and safer highway cruising experience.
Among all Honda models — and the automaker's lineup is extensive — none can match the Civic Type R for its speed. Someone seeking a hot hatchback that combines impressive performance with the usual Honda features would do well to consider the Civic Type R.
*Road Departure Mitigation only alerts drivers when lane drift is detected without a turn signal in use and can apply mild steering torque to assist driver in maintaining proper lane position and/or brake pressure to slow the vehicle's departure from a detected lane. RDM may not detect all lane markings or lane departures; accuracy will vary based on weather, speed and road condition. System operation affected by extreme interior heat. Driver remains responsible for safely operating vehicle and avoiding collisions.

**ACC cannot detect all objects ahead and may not detect a given object; accuracy will vary based on weather, speed and other factors. ACC should not be used in heavy traffic, poor weather or on winding roads. ACC only includes a limited braking function. Driver remains responsible for slowing or stopping the vehicle to avoid a collision.
This article is presented by Hardin County Honda.