3 Drool-Worthy Dip Recipes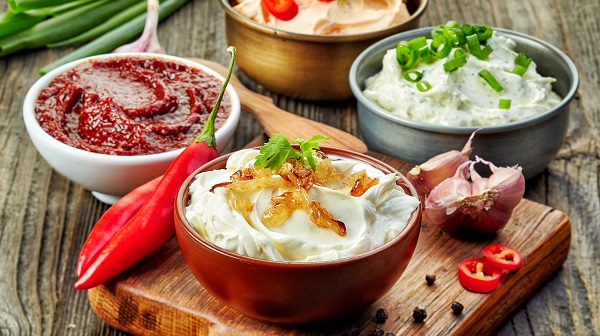 Whether you're at home with family or at a party with your friends, a bowl of dip can be a great snack in between meals or as a side dish. You can find countless dip recipes online from home and professional chefs, and some of the most interesting ones were inspired by other dishes. For instance, check out these three dip recipes that started as delicious sandwiches.
Creamy hot Reuben sandwich party dip
One of the best sandwiches to transform from plate to bowl is the Reuben. There are many ways you can do it, but this version by Shawn Syphus on her website I Wash You Dry is especially delectable.
Combine a 16-ounce package of room-temperature cream cheese with 1 cup drained sauerkraut, 1 cup Thousand Island dressing, 1 pound shredded Swiss cheese, and 1/2 pound chopped deli pastrami in a large bowl. Mix gently but thoroughly with a large spoon or spatula.
Transfer the mixture to a cast-iron skillet or oven-safe dish and bake at 415 degrees for 10 minutes. Stir the dip and return it to the oven for another 10 minutes. By now, the mixture should be hot and bubbling. Transfer it to a ramekin to serve.
Shawn recommends serving the dip with small slices of cocktail-sized Pumpernickel bread that you've toasted, but feel free to try toasted bread or crackers of your choice.
Philly cheese steak queso dip
Ditch the boring jars of premade cheese dip and make your own. On Inside BruCrew Life, Jocelyn Brubaker shares her recipe that's inspired by the Philly cheesesteak sandwich made famous by the city of brotherly love.
Sautee 1/2 cup diced red and green peppers with 1/4 cup diced onions in a pan with 2 tablespoons olive oil until the vegetables start becoming tender. At that point, add 7 ounces finely chopped deli-sliced roast beef and the drained contents of a 4-ounce can of diced green chilies to the hot pan, stirring until everything is heated. Take the pan off the stove, but keep it warm by covering it.
Grab a larger pan and warm it to melt 1 pound cubed Velveeta Queso Blanco, stirring in 1/4 cup whole milk. Once that becomes a creamy liquid, add the beef and vegetables you warmed earlier. Stir everything together and transfer it to a ramekin to serve with toasted baguette slices or your preferred chip.
Skinny Elvis dessert dip
Elvis Presley's notoriously unhealthy, favorite sandwich received a healthy dip makeover from Hungry Girl Lisa Lillien.
Whip 3 tablespoons room-temperature light cream cheese in a medium-size bowl. Stir in 1 cup thawed low-fat whipped topping with 1/2 cup fat-free plain Greek yogurt, 1/2 cup mashed extra-ripe banana, 1 1/2 no-calorie sweetener packets, 1 teaspoon vanilla extract, and a dash of salt.
In a different, smaller bowl, combine 3 tablespoons powered peanut butter with the remaining 1/2 packet of sweetener and 2 tablespoons water. Spoon this mixture into the cream cheese dip and swirl the two without over-blending. Serve with graham crackers or apple slices.
These are just three famous sandwiches you can adapt into gooey dips. What other sandwiches can you think of to try adapting — the Kentucky Hot Brown? Muffuletta? Lobster roll? Get creative in your kitchen!
This article is presented by Cronic Chrysler Dodge Jeep RAM.