4 Natural Sunburn Remedies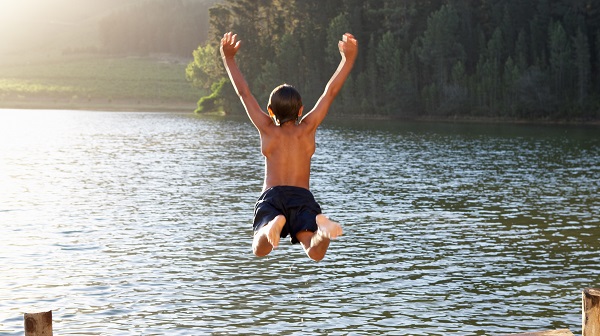 No matter how much we plan for afternoons out back or long walks to stay active, it's nearly impossible to avoid sunburns in the summer. If your skin has been reddened by the sun, but you don't want a commercial remedy, here are some easy, natural ways to cast the pain away.
Things to add to a cool bath
Just like some people add Epsom salts to their bathwater in order to reduce pain or inflammation, there are a number of substances that some believe you can soak in to alleviate the irritation of a sunburn. The first step is to set your water temperature lower than normal — not necessarily cold, but certainly not scalding-hot, so as to soothe your burn. Next, Medicine.net writer John P. Cunha and editor William C. Shiel Jr. have several suggestions to help combat the adverse effects of sunburn.
They encourage you to add apple cider vinegar to "balance the pH (acid or alkalinity) of sunburned skin, and promote healing." Soak in oatmeal to fight itchiness, pour in lavender or chamomile essential oils to numb the pain or mix in around two cups of baking soda to mitigate the discomfort. Shiel and Cunha also say you should stay away from some soaps and perfumes, as they can dry your skin out even more than the sun already has.
Aloe is invaluable
Aloe vera is probably the best-known treatment for sunburn, and for good reason. According to Healthline, the aloe vera plant's natural gel can help treat numerous skin conditions, including both acne and burns. You can almost certainly find an aloe gel at your local supermarket, or, if you prefer, grow your own plant at home and use its restorative interior as needed, making sure to avoid its prickly exterior. If you suspect you may have an allergy to aloe vera, consult a healthcare professional before use.
Dairy is very helpful
Those of us who frequently partake in dairy-based products tend to assume that they're best suited for consumption, but they may actually be the natural sunburn solution you've been looking for. Cunha and Shiel state that substances like milk — when applied via a clean cloth — and yogurt can create a protective film of protein that will soothe your pain.
Veggie power
Aloe vera isn't the only plant that can help ease the discomfort of sunburn. Shiel and Cunha claim that simple mashed potatoes, mashed cucumber and a corn starch paste can all help reduce pain and treat peeling skin. For potatoes, they recommend boiling them without seasoning and spreading across the affected area to let the starch draw out the heat. Cucumbers, meanwhile, should be chilled, blended and placed on areas where the skin is flaking off. The corn starch remedy is the easiest of the bunch, requiring just the maize-based flour and water.
Sunburn is uncomfortable, but there's no reason you should have to resort to expensive and potentially unhealthy chemicals to relieve the pain. If you prefer homegrown remedies, consider these solutions that you can whip up right in your kitchen. For more information, speak with a trusted healthcare professional.
This article is presented by Jake Sweeney Mazda.