Vehicle Profile: 2019 Volkswagen Golf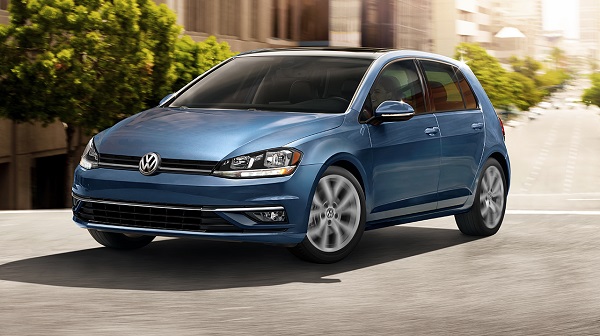 The 2019 Volkswagen Golf is a budget-friendly compact hatchback with enough high-end features to brush against the premium segment. Though the Golf is designed and equipped to appeal to as many mainstream customers as possible, it comes in a number of variants, including the GTI and R, that offer something of value to those seeking something different.
Iconic design
The design of the Volkswagen Golf has evolved many times over its five generations, but without ever truly casting off its roots. At its core, the Golf has always been about sporty style, something the modern model unabashedly embraces. The classic proportions, sleek Daytime Running Lights and crisp lines lend themselves to a simple sophistication, and while inside, the panoramic sunroof makes the Golf feel extra roomy. Not that the hatchback lacks for space: with the 60/40-split folding rear seats down, you get a whopping 52.7 cubic feet of space to play with.
Advanced technologies
The 2019 Volkswagen Golf comes with a high-resolution, 8-inch glass touch-screen display with Bluetooth
®
, Apple CarPlay
®
, Android Auto™ and SiriusXM
®
All Access, all giving you different ways to play your favorite entertainment. With the VW Car-Net
®
mobile app, you can stay connected to your car wherever you are — get notified when rain is on the forecast if you left the sunroof open, find where you parked and remotely close the doors in case you forgot. And while behind the wheel, the Golf actively works to heighten your awareness of your surroundings with blind spot monitoring, rear traffic alert, and forward collision warning. It can even automatically apply the brakes to help you avoid a front collision with another vehicle or with pedestrians.
Fun performance
Historically, it's always been difficult to find a hatchback more fun to drive than the Volkswagen Golf, and the 2019 model is no exception. Its 1.4-liter turbocharged engine makes 184 lb-ft of torque, giving you great responsiveness on the throttle, and the Tiptronic
®
eight-speed automatic transmission's slick manual mode adds another layer of enjoyment to the experience. For how fun it can be to drive, the Golf is remarkably efficient as well, earning up to 37 mpg on the highway.*
The 2019 Volkswagen Golf has the dimensions and convenience of a city commuter, the driving dynamics of a car that begs to be taken on long road trips and the advanced technologies befitting a modern premium vehicle — all at a very reasonable price. As a whole package, it's tough to beat.
*29 city/37 highway mpg (2019 Golf 1.4L, 6-speed manual transmission). EPA estimates. Your mileage will vary and depends on several factors, including your driving habits and vehicle condition.
This article is presented by Capistrano Volkswagen.