BMW Inductive Charging Pilot Program Wins Green Car Technology of the Year™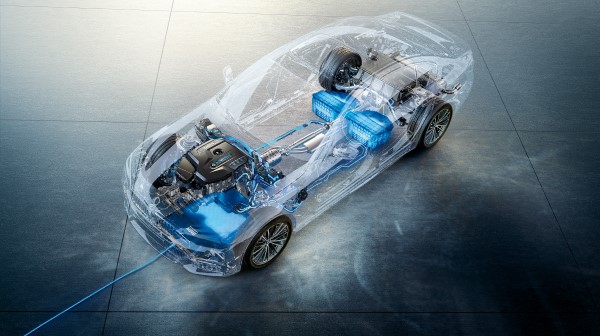 BMW earned the Green Car Journal's coveted Green Car Technology of the Year
™
for the Inductive Charging Pilot Program offered with the BMW 530e plug-in hybrid. The program offers 530e customers the chance to test out a wireless charging method, foregoing the needs for plugs and putting BMW on the forefront of vehicle charging technology.
"BMW Wireless Charging represents a milestone in the evolution of vehicle electrification, making owning and driving a plug-in hybrid vehicle an even more seamless experience," said Green Car Journal publisher and editor Ron Cogan. "Today's pairing of BMW's innovative inductive charging and 530e plug-in hybrid illustrates how the future of automatic electric vehicle charging can be as simple as parking your car. It's a deserving winner of 2020 Green Car Technology of the Year
™
."
With a charging power of 3.2 kilowatts, the BMW Inductive Charging Pilot Program enables select 530e drivers to charge their sedans in as little as 3.5 hours. The technology uses an Inductive Charging Station — known as the GroundPad — and a secondary component called the CarPad to generate a magnetic field on the underside of the vehicle. The transfer of energy from the GroundPad to the CarPad has an efficiency rate of 85 percent, making charging quicker and easier than it would be with a conventional plug-in setup.
BMW began testing the Inductive Charging Pilot Program in 2018 in Germany before expanding to California in 2019. As it stands, the program is the only wireless vehicle charging technology available to customers anywhere in the market.
The 2020 BMW 530e plug-in hybrid takes the executive sedan to electrifying new heights. With 248 system horsepower and an EPA-estimated 69 MPGe combined, the 530e Sedan demonstrates how BMW is adapting the Ultimate Driving Machine
®
for generations to come.
To learn more about the 2020 BMW 530e plug-in hybrid and the 2020 Green Car Technology of the Year
™
award-winning Inductive Charging Pilot Program, visit your local BMW dealership.
This article is presented by BMW of Cincinnati North.