Vehicle Preview: 2021 Dodge Charger SRT® Hellcat Redeye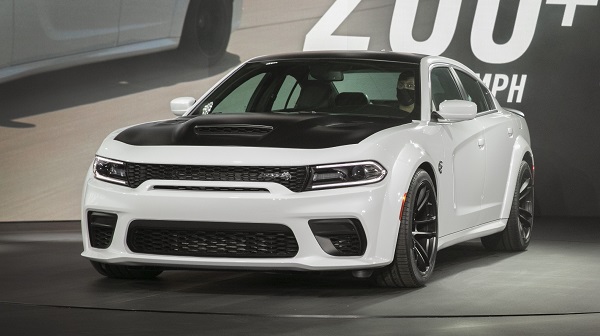 The 2021 Dodge Charger SRT
®
Hellcat Redeye will arrive in showrooms with the bold claim of being the not just the most powerful, but also the fastest mass-produced sedan in the world. However, this is not a case of Dodge falling victim to delusions of grandeur. With 797 horsepower and a 203-mph top speed, the Charger SRT
®
Hellcat Redeye actually has the muscle to back up the claims.
Supercharged HEMI® V8
At Dodge, it's clear that speed is worthy of pursuit for its own sake. The 2020 Dodge Charger SRT
®
Hellcat could already claim to be the fastest and most powerful mass-produced sedan in the world. For 2021, the new Redeye model simply ensures that no other car can get even close to stealing away those accolades.
Under the hood of the car is a 6.2-liter supercharged HEMI
®
V8 rated at 797 horsepower and 707 lb-ft of torque, the same as in the Challenger SRT
®
Hellcat Redeye. Instead of a 2.4-liter IHI supercharger, the Redeye gets the larger 2.7-liter unit also found in the Demon, which cranks up to 14.5 psi, up from 11.6 psi on regular Hellcat models. Redline has also gone up from 6,200 rpm to 6,500 rpm.
The Charger Redeye features stronger pistons and connecting rods, an updated valvetrain, improved oiling capability and a two-stage fuel pump to ensure the engine can actually utilize all of the air the supercharger is feeding to it. It boasts a strengthened driveshaft and axles to handle the extra torque and an SRT
®
Power Chiller
™
to help cool the engine. In other words, it takes a lot of work to get an engine to make and sustain 797 horsepower, and Dodge hasn't cut any corners.
Acceleration and speed
The 2021 Dodge Charger SRT
®
Hellcat Redeye has yet to be tested in real-world conditions, but Dodge says it expects the car to do the quarter mile in 10.6 seconds with a trap speed of 129 miles per hour. Its 0-60 mph acceleration should be somewhere in the mid-3-second range, its top speed 203 mph and if you're looking to do laps, the Redeye is also expected to be about 1.2 seconds faster than the regular Hellcat on a 2.1-mile road course. Dodge didn't specify what kind of tires were used for these tests, but it wouldn't be surprising if they were the stock 20-inch all-season tires that come with the car. The Charger SRT
®
Hellcat Redeye is expected to get 22 mpg on the highway, but will consume 1.43 gallons per minute at full throttle, draining the fuel tank in just under 11 minutes.
Interior and features
Despite its impressive performance figures, the 2021 Dodge Charger SRT
®
Hellcat Redeye nonetheless remains a five-passenger, four-door family sedan. As a result, it provides more comfort and desirable standard features than you might typically expect of your average 797-horsepower machine. This includes heated and ventilated leather seats, an excellent 8.4-inch touch-screen Uconnect
®
infotainment system with Apple CarPlay
®
and Android Auto
™
smartphone integration, as well as a 19-speaker Harman/Kardon
®
Audio System. For a sportier atmosphere — as if that were necessary — you can add real carbon fiber interior trim and a faux-suede headliner.
Ever since the launch of the Dodge Charger SRT
®
Hellcat and the Challenger SRT
®
Hellcat Redeye, fans have been clamoring for the Charger to get the Redeye treatment — and now it has. Scheduled to arrive at dealerships in early 2021, the car delivers performance that other four-door family sedans simply can't match.
This article is presented by Cronic Chrysler Dodge Jeep RAM.