Vehicle Details: 2019 Volkswagen Jetta Interior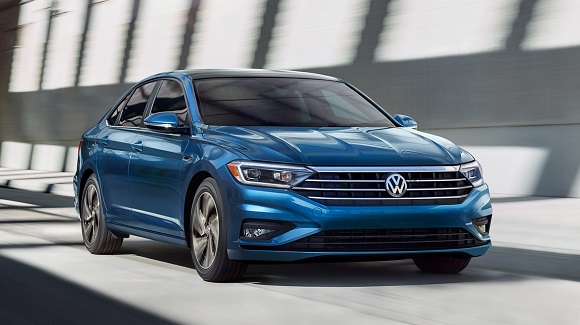 Volkswagen has been a reliable automotive brand since its creation in 1937, and the all-new 2019 Volkswagen Jetta continues that legacy in spectacular fashion. This sedan is feature-rich and undeniably comfortable. The moment you sit down in your new Jetta, you'll fall in love with its driver-focused interior and convenient technology.
Detailing
If you're in the market for a sedan that feels as good as it looks, you can't do much better than the 2019 Volkswagen Jetta. Each seat is available with premium leather or striking two-tone V-Tex leatherette upholstery with Titan Black Bolsters and Storm Gray inserts. Volkswagen designed the Jetta to keep you as comfortable as possible, regardless of the time of year. With available features like heated and ventilated front seats, you'll never have to worry about freezing or boiling alive during your commute ever again.
Technology
No car produced in 2019 is complete without a comprehensive suite of innovative, helpful technology, and the 2019 Volkswagen Jetta delivers in spades. To describe these features, Volkswagen's official site uses the phrase "tech with purpose, not tech for the sake of tech." The details back this claim up while proving that Volkswagen is never content to settle for "good enough."
Driving headfirst into the future, the Jetta features an available 10-inch Digital Cockpit that replaces traditional analog dials and meters. You can customize what information the screen displays and even equip it with navigational capabilities. The ability to check directions on the same conveniently-placed screen as your speed helps to keep your eyes where they belong: on the road. Furthermore, you can save up to four unique configurations — more than enough for your Jetta's primary drivers.
In addition to the revolutionary Digital Cockpit, the 2019 Volkswagen Jetta offers an available eight-inch touch-screen infotainment system. Through this display, you can connect your compatible smartphone to your vehicle via Apple CarPlay
®
and Android Auto™, which give you control over the crystal-clear available BeatsAudio™ speakers. If a corded connection better suits your needs, simply plug your phone into the dash's USB port and take advantage of Volkswagen's App-Connect feature.
Luxurious additions
A Volkswagen wouldn't be a Volkswagen without premium features meant to enhance your time on the road. For a breath of fresh air and a touch of sunlight, consider the available panoramic sunroof, which lets you shine a little light on your drive with the push of a button. To set the mood with something truly unique, equip your Jetta with ambient interior lights, which are capable of generating ten distinct, stunning colors.
The interior of the 2019 Volkswagen Jetta raises the bar for what drivers should expect from a modern compact sedan. Set a course for your local Volkswagen dealership and experience the stylish charm of the 2019 Jetta for yourself today.
This article is presented by Capistrano Volkswagen.