3 Healthy On-the-Go Breakfasts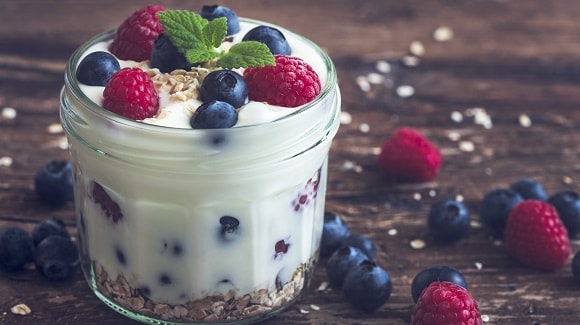 Breakfast is the most important meal of the day, but it also happens to coincide with your most hectic time of the day. Whether it's getting yourself ready or sending the kids off to school, there's a ton to do every morning and not a lot of time in which to do it. This means that breakfast, that oh-so-important meal, tends to get pushed off to the side. If you have a few quick, healthy and easy-to-prepare meals under your hat, however, you'll never have to miss another breakfast or rely on a sugary pastry from the coffee shop drive-thru.
Banana oat waffle sandwich
When you think of waffles, you don't typically imagine a healthy morning meal — most likely, you think of fluffy stacks covered with syrup and butter. If you move away from store-bought mixes and sugary toppings toward employing a healthier approach, you can enjoy that familiar breakfast staple in a way that's much better for you but still quite tasty.
By blending together old-fashioned rolled oats, milk, eggs, bananas and baking powder, you'll create a banana oat waffle mix that's big on flavor without the added sugar and calories. Sandwich two of these waffles together with your favorite nut butter and fresh fruit in the middle and you've got a healthy, easy-to-make sandwich that gives you a balanced boost in the morning.
Egg cups
Making a batch of egg cups is a great way to maximize your time and set yourself up with a week's worth of healthy breakfasts. Simply take a muffin tin and fill it three quarters of the way full with a mixture of egg and milk whisked together with your preferred ingredients and seasonings. If you want to cut down on fat, you can swap out whole eggs for egg whites and leave the milk out without losing the light, fluffy texture.
The end result is high in protein, making egg cups great for early-morning energy or a pre-workout bite to eat. Since they don't require a lot of prep and only take about 20-25 minutes to bake, they're easy to throw together on a Sunday afternoon before the start of your work week.
Breakfast burritos
There's no such thing as a bad time for burritos, and a breakfast burrito is proof positive of this fact. Prepping quick and healthy breakfast burritos starts with the right choice of tortilla — try to find a corn or flour tortilla that's lower in fat and higher in fiber, or you could opt to do away with it altogether and make breakfast burrito bowls.
As for your ingredients, cubed red potatoes seasoned to perfection give you just the right amount of starchy carbohydrates to get your day off on the right foot, and lower-fat meats like chicken sausage and turkey bacon offer plenty of flavor and protein into the mix. Heap in your eggs and vegetables and portion it all out for a full week, and every day will be prime for a great burrito.
You can eat healthy in the mornings even when you're in a rush. Finding easy-to-make breakfast recipes that you can prep ahead of your week takes a lot of stress out of your morning rush and makes sure that you always have the proper energy to tackle whatever the day brings.
This article is presented by Bob Hook Chevrolet.