Vehicle Details: 2019 Buick Regal GS Performance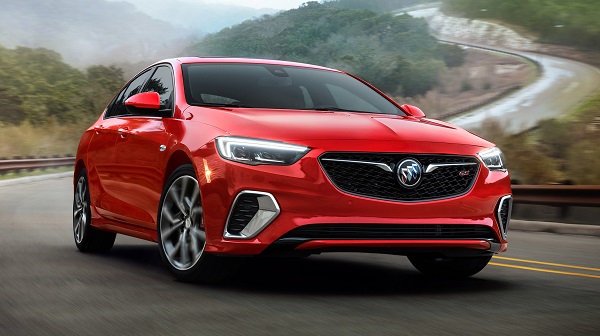 While the regular 2019 Buick Regal already makes a hefty 250 horsepower from a turbocharged four-cylinder engine, the inner racer in you may prefer the Regal GS, which puts a special emphasis on performance and should be well suited to people who value driving enjoyment.
Engine and transmission
Every 2019 Buick Regal GS is equipped with a naturally-aspirated, 3.6-liter V6 that produces 310 horsepower at 6,800 rpm, and 282 lb-ft of torque at 5,200 rpm. That's 60 more horses than the Regal Sportback, and to help with the application of that power, you also get a standard intelligent All-Wheel Drive system with active twin clutch, which can apportion power to the front, rear, left or right wheels to give you the most possible grip in various weather conditions. It's the kind of assistance that helps build your confidence behind the wheel, and it works quite well with Buick's new, advanced nine-speed automatic. The transmission is quick, slick, and more importantly, unobtrusive. One moment you're in one gear and in another you're in the next without any lurches or hiccups, which makes for an enjoyable driving experience whether you're on a relaxing trip or pushing the GS to its limits, especially if you put the gear selector in manual mode.
Brakes and ride
The 2019 Buick Regal GS makes good use of Brembo
®
front brakes with dual-piston front calipers, which help slow the car down from 70-0 mph in only 164 feet, a strong performance for a car in this segment, and certainly capable enough to get you slowed down over and over again during aggressive driving. The suspension is stiffer than in the Regal Sportback, working in tandem with the AWD system to provide sharp handling and cornering. From your position in the special GS-exclusive, racing-inspired massaging front performance seats, you can also adjust the driving modes between normal, GS, and Sport. GS enhances the throttle and transmission response, reduces the power steering assistance and gives the shocks a sportier bias. Sport is a compromise between normal and GS, but it gives you the ability to customize your own settings, so it can technically be anything you want it to be.
The 2019 Buick Regal's name might imply a certain dignified civility, but the GS certainly doesn't hold back when it's time to put the power down.
This article is presented by VanDevere Auto Group.