4 Haunted Attractions in Kentucky and Tennessee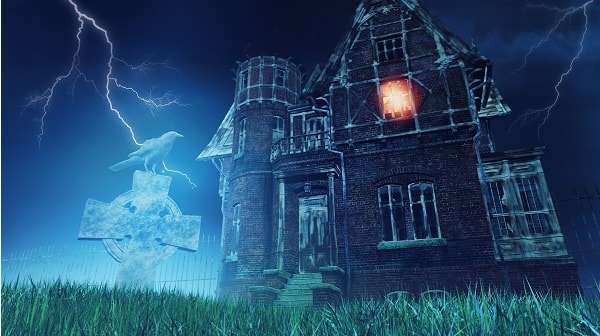 The return of autumn to Kentucky and Tennessee is great if you love cooler evenings, football games and tailgating or just the sight of colorful leaves. If you're a fan of being frightened, it also means the return of haunted attractions — a unique kind of entertainment which both states are flush with. If you want to take your friends out for a night of fright, these haunts should be at the top of your to-boo list.
U.S.S. Nightmare (Kentucky)
Whether it's from fright, sea sickness or some combination of both, the
U.S.S. Nightmare
in Newport boasts that 15 percent of its passengers jump ship before completing this 30-plus-minute haunt. The Nightmare is one of the most unique haunted attractions in the region, taking place entirely on a decommissioned dredge ship moored in the Ohio River. Legend holds that the William S. Mitchell still houses its maniacal namesake, his daughter Anna and a whole crew of otherworldly creatures in its vast and dark belly. Tickets start at just $20, and you can cap off the season on Nov. 2 with the Captain's Extreme Tour, an adults-only experience where the monsters will be able to touch you.
Deadland Haunted Woods (Tennessee)
Deadland Haunted Woods
in Lebanon promises a full-fledged screampark experience, offering three terrifying attractions to choose from. New for 2019 is The Crypt, a place where the spirits of the dead seek revenge on the living for possessing that which they do not have: life. The Crypt joins fan-favorite attractions The Curse and The Portal, which plunge guests headlong into a nightmarish wood infested by the living dead and a library where ancient tomes conjure unimaginable evil. Deadland Haunted Woods is open Friday and Saturday from Sept. 13-Nov. 2 as well as Halloween; you can purchase tickets for individual haunts or bundle all three today for as little as $30.
Legend at Pope Lick (Kentucky)
Haunts based around local legends and folklore are in surprisingly short supply, but
Legend at Pope Lick
in Louisville is a unique exception. Legend explores the rumors of the Goat Man, a being said to live near a train trestle in Pope Lick Creek, mimicking the voice of humans to lure unfortunate passersby into the path of oncoming trains. You'll be given a flashlight and will be set loose into the woods near the Pope Lick trestle. If you're lucky, you'll make it out without any unusual encounters with a certain horned entity. Just be wary of the strange voice calling you from over your shoulder.
Dead Man's Farm Haunted Attraction (Tennessee)
Dead Man's Farm Haunted Attraction
celebrates 10 years of scaring folks in Philadelphia at an all-new location. The new setting amplifies the horror of the farm's main attraction: The Bludgeon House, the homestead of a family who doesn't look kindly upon trespassers. Your trek through the farmhouse will take upwards of 35 minutes, and you can opt for a Touch Upgrade ticket that lets the monsters provide a more hands-on scare. Before and after your experience in The Bludgeon House, check out the midway attractions which include three escape games, a casket simulator ride, special performances and a bonfire area. If you have young ones, you can bring them along on Oct. 23 for a one-night-only Lights On tour.
The Halloween season comes but once a year, so don't miss out on your chance to enjoy the many great haunted attractions in Kentucky and Tennessee. From high-quality sets and effects to committed performers, these haunts will stay with you in nightmares for months to come.
This article is presented by Hardin County Honda.