4 Thrilling Go-Kart Tracks in Washington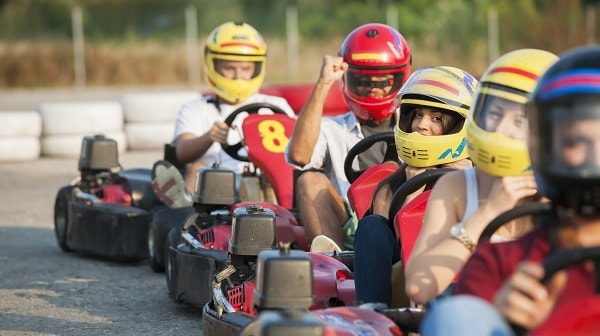 Speed. It's a classic Keanu Reeves movie, a key characteristic of Sonic the Hedgehog and, when you experience it at the wheel of a go-kart, a fun way to spend an afternoon with family and friends. If you feel the need for speed in Washington, make sure to check out these five go-kart tracks for your fix.
Pacific GP
If dark skies have ever stymied your racing plans, look no further than the
PGP Motorsports Park
in Kent, which proudly exclaims: "Racing, rain or shine." The park boasts up to 12 different track configurations totaling 0.82 miles and Italian-built Birel N53 rental karts capable of reaching speeds up to 50 mph. If you want to build your skills behind the wheel, PGP offers racing school for kids and adults that teaches the fundamentals of go-kart racing. That experience can be applied to League Racing, which has you vying for a spot on the leaderboard, or the ultimate challenge of Endurance Racing. Or, if you're just looking for a quick race with your friends, Arrive and Drive gets you around 13 minutes of track time no matter the weather.
Grand Prix Raceway
The Grand Prix Raceway
in Lakewood has something for everyone to enjoy. Situated inside of a massive building, racers never need to worry about wiping water from their visors. Are you a veteran driver looking for a challenge? Join a league or participate in an event like the 50-lap Iron Man race to test your endurance. Walk-in racing is available for all skill levels, so you can experience the speed of the Raceway's brand-new Sodi RX8 karts whether it's your first race or your 50th. If you feel like just watching the action, you can take advantage of the climate-controlled viewing lounge that now includes a video display system that ensures you won't miss a beat.
K1 Speed Seattle
For anyone who has ever worried that eco-friendly racing would mean compromising on power and performance, meet
K1 Speed
. Its Redmond location — one of 41 spread out across 14 states — proudly features entirely electric karts that give off zero emissions and can hit speeds of 45 mph. Not only are these karts more efficient, they're also as fun to drive, if not more so than the traditional gas-powered go-kart. In the company's own words: "If you're accustomed to the lawn mower-powered karts at your local amusement park, you're in for a surprise." Anyone interested can simply walk in the door and sign up to go head-to-head with 11 other racers in a competition for the fastest lap time. And with no gas fumes to speak of, you can rest assured that the indoor track won't leave you feeling lightheaded.
Skykart Indoor Racing Center
Sykart Indoor Racing Center
celebrates 20 years of excellence in 2019, and it remains, to this day, one of the best walk-in go-kart experiences in the state. Open seven days a week, Sykart offers 10-minute races whenever it's convenient for you, meaning you can hit speeds of up to 40 mph on your lunch break. Signing up for a VIP membership gets you a free race and helmet liner, discounts on packages and races and access to special events for just $35 for the first year and $10 each year after. You can also get your little ones in on the action with the Family Track, which accommodates drivers ages eight years and older and at least 50 inches in height, and teach them the fundamentals of go-kart racing at driving school. What's more, Sykart Indoor Racing Center is a great place to hang out in general with its snack and beverage options, arcade games and pool table.
If you've got to go fast, you'd better get yourself to one of these great go-kart tracks. They're great for letting off steam, spending time with loved ones and challenging yourself to achieve a new personal best. Whatever your aim, you're sure to have a great time.
This article is presented by Bill Korum's Puyallup Nissan.