Refreshing Summer Drink Recipes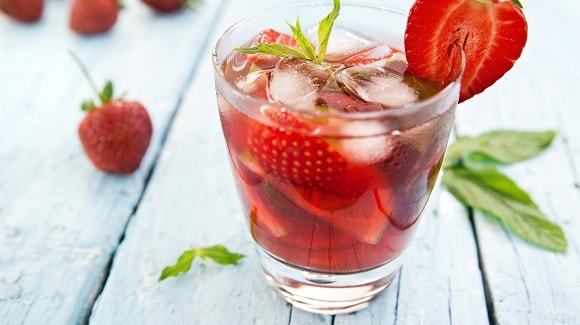 Summer brings balmy temperatures and sunny weather — the perfect setting for outdoor get-togethers. Relax on your porch or in your backyard with some friends as you share one of these summertime drinks.
Peach-ginger iced tea
This recipe hails from Food Network Magazine. You'll need the following ingredients: 6 canned peach halves with 1 1/2 cups of the juice, 1/3 cup sugar, 1 tablespoon grated ginger, 6 cups cold black tea and ice. In a large pitcher, combine the peach halves, sugar and grated ginger. Once the sugar has dissolved, add the tea and ice. Refrigerate until ready to serve.
Grapefruit citrus sparkling mocktail
Elsie Larson from A Beautiful Mess shares this refreshing tropical recipe. Though designed as a mocktail, you can simply add a dash of white rumor vodka to make it a cocktail. Gather the following ingredients: 4 ounces grapefruit juice, 6 ounces Sprite (you can also use club soda or flavored sparkling water), fresh lime and lemon wedges, splash of simple syrup. In a tall glass, add the grapefruit juice and your chosen sparkling base (soda, club soda or sparkling water). Next, squeeze the lime and lemon wedges into the glass and stir in the simple syrup. Garnish with a sprig of rosemary and a grapefruit wedge, if desired.
Berry guava lemonade
Fruity and chilled, this delightful lemonade is sure to quench your summer thirst. Food Network Magazine gets the credit for this single-serving drink recipe. Simply mash 4 diced strawberries with 4 tablespoons guava juice and 2 tablespooons of sugar in a glass. Add 6 tablespoons of lemon juice and a few lemon slices and fill the glass with ice. Mix thoroughly, then serve.
Virgin mojito
Julie Elsdon-Height from Sober Julie provides this rejuvenating mojito recipe. (Feel free to add a dash of white rum, for a spiked version of this drink.) You'll need the following ingredients: 1 sprig of fresh mint leaves, 1 tablespoon simple syrup, 1/2 lime (sliced), ice and sparkling water. Muddle the lime and mint leaves. Add in the simple syrup and combine. Place ice cubes in a glass and add the mixture. Stir in sparkling water, then garnish with a mint leaf before serving.
Cherry cooler
Food Network Magazine shares this cherry-themed drink recipe. It makes just one serving, but you can double or triple it, as needed, to make a larger batch for a crowd. Puree 1/2 pound of pitted cherries in a blender or food processor. Pour into a pitcher, then stir in 1/2 cup sugar and 1 cup hibiscus tea. Garnish with a few cherries on top for a festive touch.
Virgin sangria
Jennifer Perillo from The Spruce Eats recommends making a pitcher of this fruity crowd-pleaser on a hot day. You'll need the following ingredients: 1 orange, lemon and lime (thinly sliced); 2 apples (cored and chopped); 3 cups red grape juice; 1 cup white grape juice; 1 1/2 cups orange juice; 1/4 cup lemon juice; 2 tablespoons lime juice; 1 bottle sparkling apple cider (or plain seltzer). Place the fruit slices (and apple pieces) in alternating layers in the pitcher. Add a second layer with the remaining fruit. Add in the fruit juices and combine. Cover with a lid or sheet of plastic wrap, then chill the drink for at least four hours. Add the sparkling cider to the pitcher and mix with ice, right before it's time to serve it. You can also add a dash of red wine, if you prefer a spiked version of the recipe.
Cool off this summer and enhance your summer entertaining with these scrumptious drinks.
This article is presented by East Hills Chrysler Jeep Dodge Ram.