The Expansive BMW 8 Series Lineup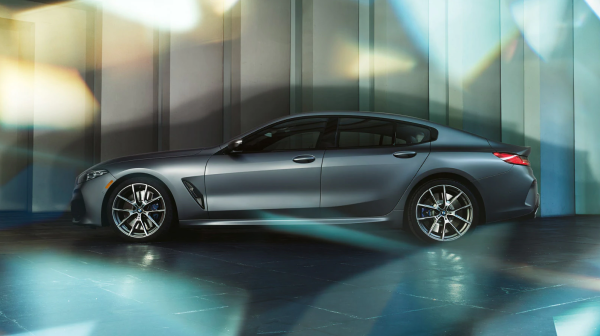 BMW earns its reputation as the world's foremost purveyor of luxury automobiles by giving drivers like you choices. No two BMW customers are alike, and so BMW strives to deliver for every preference, every style and every need. One need look no further than the 8 Series to confirm this goal: With three unique body styles, each with its own high-powered M Performance variant, there is truly a BMW 8 Series vehicle for all comers.
Though different from one another in functional ways, the 2020 BMW 8 Series Coupe, 8 Series Gran Coupe and 8 Series Cabriolet share the all-encompassing unifying element of dynamic BMW design. Muscular yet lean, every 8 Series vehicle features pronounced proportions, an ever-ready stance that hints at its quick-accelerating capabilities and a bold and fresh take on the iconic BMW face. A fierce athlete with composure and self-assurance, the 8 Series makes a bold proclamation wherever it goes.
Because you want to tailor that proclamation to your specific desires, the 8 Series offers three different takes on the same winning look. The sleek, sloped look of the 8 Series Coupe demonstrates that BMW remains the epitome for two-door, high-performance luxury coupes. The 8 Series Gran Coupe adds the functionality of four doors without cutting into that distinctive aesthetic, giving you more functionality for getting around with your family. The 8 Series Convertible is the ultimate spring and summer vehicle, offering the convenience of a compact soft top that can deploy or retract in just 15 seconds at speeds of up to 30 mph.
All three of these 8 Series variants are available with the added muscle of BMW M Performance. Not only do you get added muscle with enhanced aesthetics inside and out, but you get more beneath the hood with the vaunted 4.4-liter BMW M TwinPower Turbo V8 and its output of 600 horsepower (or 617 horsepower with the tuned-up Competition edition). Add the expert engineering of BMW M with a configurable Integrated Brake System, Adaptive M Suspension and M Sport Differential, and even the more mundane of your drives will feel like life-affirming experiences.
The depth and breadth of the 2020 BMW 8 Series gives you the choice you deserve. There's a BMW 8 Series that suits your style at your local BMW dealership.
This article is presented by BMW of Cincinnati North.