Vehicle Details: 2019 Volkswagen Golf R Performance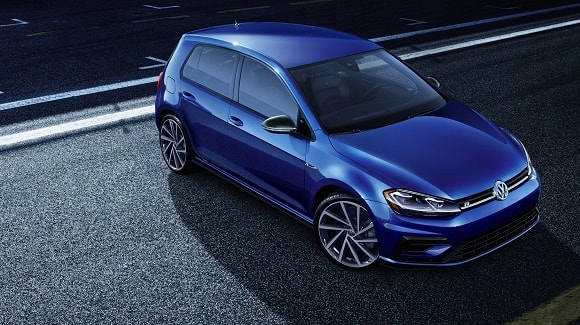 If you like your hatchbacks hot, the Volkswagen Golf R is the king of them all. It's the grandfather of hot hatches. Even decades after setting the hatchback class ablaze, the 2019 model continues to reign supreme with heaps of accessible performance.
Turbocharged engine
Every proper hot hatch needs a good little engine, and though the 2.0-liter TSI
®
four-cylinder engine inside the 2019 Volkswagen Golf R is compact and lightweight, it packs an undeniable punch. Using turbocharging technology, it delivers 288 horsepower and 280 lb-ft of torque, taking you from 0-60 mph in under five seconds. The response delay you'd typically expect from a turbocharged engine is virtually unnoticeable. In fact, the generous amount of torque allows you to put your foot down in just about any gear and feel an immediate and powerful pull forward.
Great transmissions
Hot hatchbacks are not about having the most power or winning drag races. Principally, they're about fun, which means the experience of driving the car needs to be engaging — and that's where the transmission comes in. Volkswagen saw that about half of American buyers get their Golf R with a six-speed manual, so, even as other automakers are phasing out the stick, it's still available in the 2019 Golf R for those who prefer old-school shifting action. Still, there's no harm in evolution: The seven-speed DSG
®
automatic transmission with Tiptronic
®
and Sport mode allows you to shift faster than the manual, and still offers a hands-on experience with quick and satisfying-to-use paddle shifters on the steering wheel.
Advanced driving modes and chassis
The 2019 Volkswagen Golf R is equipped with 4MOTION
®
all-wheel drive, a rare treat for hot hatchbacks. Under normal driving conditions, power is routed to the front wheels for better fuel economy, but, when needed, the AWD system kicks in to provide better grip when accelerating and cornering. You can also adjust the dynamics of the car on the fly. Selectable driving modes include Eco, Comfort, Normal, Race and Custom. Even the DCC
®
adaptive chassis, which uses a variety of sensors to adjust its own damping force on the fly, has three independent suspension firmness settings.
Long after essentially creating the hot hatchback segment, the Volkswagen Golf R is still the one to beat. But with the 2019 model's TSI
®
engine, engaging transmissions and adaptive chassis, the competition would be happy just to keep up.
This article is presented by Capistrano Volkswagen.