Tales From the Roadside
How Lexus Roadside Assistance helped change the course of a day (or night) for Lexus drivers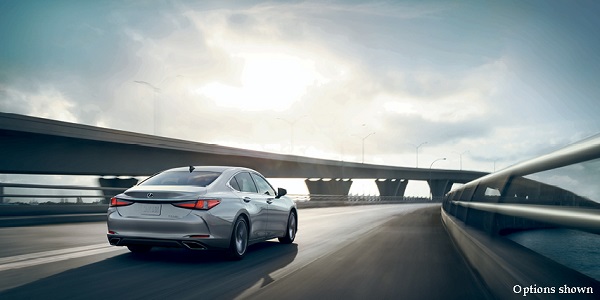 When Lexus began, one of its more revolutionary personal-service ideas was to offer complimentary roadside assistance to Lexus drivers. This program, of course, continues today via a national network of roadside service providers who deliver emergency services 24 hours a day, 365 days per year. (With an active Safety Connect[1] subscription, 2019 models and newer have 72 months of coverage.)[2]
But even if you've never needed
Lexus Roadside Assistance
for a battery jump-start, tire change, lockout, fuel delivery, or tow, we'd like to take this opportunity to remind you that it's there if you need it. Even premium Lexus models encounter challenging situations on the roads, and over the years the service has made quite an impact in your fellow Lexus drivers' lives.
"One of my favorite Lexus Roadside Assistance stories," recalls one Lexus Service Advisor, "is when one of our guests had taken his family camping a little off the beaten track with his Lexus LX, which is not uncommon in our part of the country. After a great three or four days at the camping spot, our guest repacked his LX to head home, then discovered the battery had died. Yikes! They weren't exactly close to civilization. So he walked for 45 minutes down the access road to the main route for a better mobile phone connection and called Lexus Roadside Assistance. After meeting the guest, the technician drove him back to the vehicle, jump-started the battery, and sent the relieved family on their way home."
Lexus Service Advisors will also, if need be, work alongside Lexus Roadside Assistance to make a difference in a Lexus drivers' day. Recalls one from the East Coast: "I was just about to leave our dealership for the night when I received a call from a guest. She had just returned from a business trip and discovered that her vehicle wouldn't start in the airport parking area. As this guest had owned multiple Lexus vehicles for many years without any issues, she was unfamiliar with her Lexus Roadside Assistance procedures."
In this case the Service Advisor helped the guest connect to the service via 1-800-25-LEXUS, then drove a loaner vehicle to the location after Lexus Roadside Assistance determined a tow was needed back to the dealership (which was his ride back). "It made for a longer evening, but that's how we take care of guests," he explains.
And then there's the tale of a Lexus driver's (mostly) responsible high school junior who called home one evening to report that—after proving himself worthy of using his mom's Lexus RX on several occasions—he'd tried to stretch his fuel level a bit too far and ran out of gas. The situation: he was now stuck in the shoulder of a local freeway. As his parent tells it, she alerted Lexus Roadside Assistance from her home, and the technician "arrived in less than 30 minutes" to add some fuel. Her son made it home safely, and Lexus Roadside Assistance has given her piece of mind ever since.
For one Lexus Roadside Assistance technician, a night he'll never forget was when he received the call to service a Lexus-driving couple in their 60s who were on their way to celebrate their 35th wedding anniversary. Their vehicle lost power during a night of terrible weather—the rain was pouring down and wouldn't stop, recalls the technician. "I thought it would be a quick jump-start, but it turned out to be a battery replacement. I ended up swapping out their battery with a new Lexus Genuine battery. I was soaked, and but they were able to salvage their date and were so grateful. But I just wanted them to remember their 35th anniversary as a happy night."
And this is really what it all comes down to with Lexus Roadside Assistance—an overarching goal to create happy endings for Lexus drivers, no matter what the situation.
By Brian Gill
[Legal disclaimers]

[1] Lexus Safety Connect depends on an operative telematics device, a cellular connection, navigation map data and GPS signal strength and other factors outside of Lexus' control, all of which can limit system functionality or availability, including access to response center and emergency support. Stolen vehicle police report required to use Stolen Vehicle Locator. Registration required. Service subject to change at any time without notice. Terms and conditions of subscription service agreement apply. Service may vary by vehicle and region. See usage precautions and service limitations in Owner's Manual and Lexus.com/enform for additional details. To learn about Lexus' data collection, use, sharing and retention, please visit https://www.lexus.com/privacyvts/.

[2] Roadside Assistance coverage is for 48 months from your vehicle's in-service date, regardless of mileage. Coverage is provided 24 hours a day, 365 days a year, for vehicles operated in the continental U.S., Alaska and Canada. Does not include parts and fluids, except emergency fuel delivery. All Lexus vehicles also come with Enhanced Roadside Assistance, which is Roadside Assistance accessible through your Safety Connect subscription, as follows: available for one year at no extra cost on all 2017 models plus the 2018 GX and is at no extra cost for 10 years on all other 2018 and later models. Enrollment in a paid Safety Connect subscription is required for Enhanced Roadside Assistance coverage upon termination of the applicable trial period. See your Lexus dealer for details.