Car Care: Tips for Buffing and Waxing Your Vehicle
How to bring out the best in your car's exterior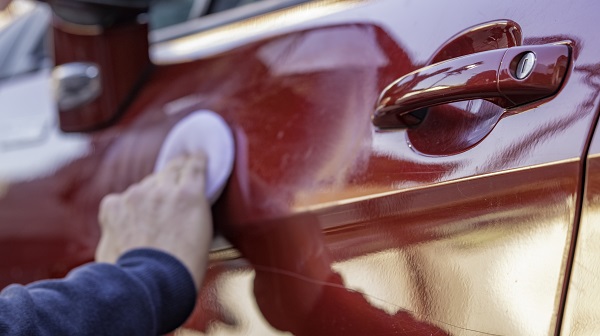 Although buffing and waxing can be a time-consuming process, it does more than give your car a showroom shine — the process even preserves your vehicle's value. Buffing removes rust and scratches that lead to major damage, while waxing helps to protect your car's paint from the elements. Here's a guide to help you take the guesswork out of washing and waxing your vehicle.
Cleanliness is a virtue
It's critical to make sure your vehicle is squeaky clean before buffing or waxing. Waxing will seal in grime like dirt, salt, sand and organic matter, while buffing a dirty car could result in scratches and a ruined buffer pad. For best results, wash your vehicle from the top down, working in sections. Rinse after washing each section so the soap doesn't dry onto your car's exterior. Once you've washed your car, allow it to dry thoroughly — wet vehicles and wax don't mix. You can dry your vehicle faster with a chamois cloth.
Protect the plastic
Now that your vehicle is clean, it may be tempting to bust out the rotary buffer. However, the friction from a spinning buffer pad can whip up intense heat. While this won't harm the metal parts of your vehicle, it could damage the plastic elements. Protect your car's headlights, taillights, cladding, molding, pinstripes and badges with a layer of easy-release, no-residue masking tape.
Buff it up
Buffing uses gentle abrasion to remove rust and minor scratches. Use a high-quality wool buffer pad in conjunction with some buffing compound to get the job done right. Apply the compound to the car, using the pad to spread it around. Work in 2-foot-by-2-foot sections, using alternating vertical and horizontal movements. Just don't tilt the pad — this can focus too much on one spot, resulting in damage to the clear coat. Continue until your vehicle is covered with a layer of buffing compound. Afterwards, clear away any excess with a microfiber cloth.
Shine bright like a diamond
To give your vehicle a satisfying shine, use a foam polishing pad along with some liquid polishing compound in the same way you used the buffing pad and buffing compound. Begin using medium pressure, but once you've distributed the compound across the vehicle's exterior, lighten up on the pressure. Once you've covered your vehicle, wipe away any excess polish with a clean microfiber cloth, and enjoy your vehicle's shiny coat.
Choosing and using automotive wax
If you want that shine to last, get ready to wax your car. There are two main types of auto body wax — carnauba and polymer. The natural, plant-derived carnauba wax provides that deep, lustrous show-ready shine, but it's more challenging to work with. Furthermore, a coat of carnauba wax only lasts about 60 days. Polymer wax, on the other hand, is easier to apply and lasts as long as six months, but doesn't provide the same stunning sheen. If you'd like a compromise between the two, choose a blended formulation. Whichever you choose, most auto waxes will come with an applicator pad that's perfect for the job. For best results, use circular movements to work in small patches. Once the wax dries and becomes cloudy, use a microfiber towel to wipe away the excess. Also, be sure to wax your car out of direct sunlight. Too much heat will cause the wax to cure before you have the chance to wipe away the excess.
There are a myriad of methods and products for buffing and waxing your vehicle. If you'd like to learn more, consult with online experts or our service center.
This article is presented by Jennings Chevrolet.