Explore a New World in Tangier, Morocco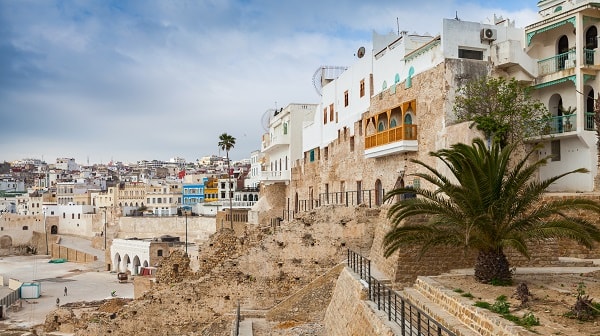 Recent history has made traveling to large parts of North Africa and the Middle East impossible for many tourists. Tangier, Morocco is one of the tourist spots that remain, right across the Strait of Gibraltar from Span and Europe. Consider heading to this city for a look at Morocco's traditions and picturesque shoreline.
What to do
Two of the most famous features of Tangier are its medina, or non-European part of the city, and its Kasbah, or fortress. Tangier's medina is walled off from the rest of the city, and it features both residential and commercial areas.
Famous travel writer Rick Steves
enjoyed his wanderings through the twisted streets of the medina and its many markets, also called souqs. The largest one is called the
Grand Socco
, and it reportedly makes a good starting point for any journey through Tangier.
To see how the richest people in Tangier lived in days past, visit the
Kasbah Museum
. According to Lonely Planet, the exhibits in the old castle focus on the history of Tangier from ancient times almost to the present, but the placards are all in Arabic or French. The museum is still worth a visit, though, to see the beautiful artifacts and artwork on display. You'll also gain access to a well-maintained Andalusian garden near the sea.
When you're ready to spend some time on the water, Tangier has several private and public beaches, which might be referred to with the French word "plage." If you're up for a drive, head west of Tangier to the famed
Caves of Hercules
. They get their name from the Roman hero Hercules, who reportedly sheltered in these caves on one of his adventures. After you're done exploring, consider checking out the nearby
Cap Spartel lighthouse
. Fodor's Travel reports that it has great views, and on clear days you can see where the Mediterranean and Atlantic meet and their two different colors of water mix.
Where to stay
Tangier has plenty of places where you'll be pampered during your stay. Consider the
Hotel Nord Pinus
, perched on the highest point of the city's historic center. Its interior reflects the historic district, with beautiful tile, ornate woodwork and interesting architecture. It also has an on-site bar and restaurant to make relaxing even easier.
Several riads, or traditional Moroccan homes built around courtyards, have been converted into hotels, offering you a taste of what it would be like to be a member of Tangier's elite. This includes the
Palais Zahia
, a brightly colored hotel with plenty of character. Besides being a great place to rest your head, the hotel offers yoga guides to help you relax, as well as connections with tour companies that head out into the Moroccan desert.
Where to eat
Tangier's history as a French colony and its close proximity to Spain means that it offers a unique blend of cuisines. If you're looking for affordable Arabic dishes, TripAdvisor reviewers rave about
Restaurant Ahlen
. You start with complimentary olives, bread and tea, and many of the dishes are perfect for sharing. The owners of the restaurant are also reportedly very friendly to tourists. For a taste of France,
OtriK Restaurant Tangier
has gastropub-style dishes often accompanied by live music for a chill, European setting.
The city is on the sea, so you should try some local seafood while you're in Tangier. While the name of
Le Saveur du Poisson
is French, its dishes are more influenced by Mediterranean and traditional Moroccan flavors. Reviews report that this is a fixed menu restaurant, so you won't have to stress over a menu, just enjoy the dishes as you're served. Head over to
Tangerino
for a taste of Spain, where the menu includes tapas and paella that feature local seafood.
Tangier, Morocco is an ideal travel destination if you're tired of Europe's familiar destinations. It truly gives you a look into a world quite different from the one you're comfortable in.
This article is presented by O'Brien Lexus of Peoria.