5 Great Films about Animals and Nature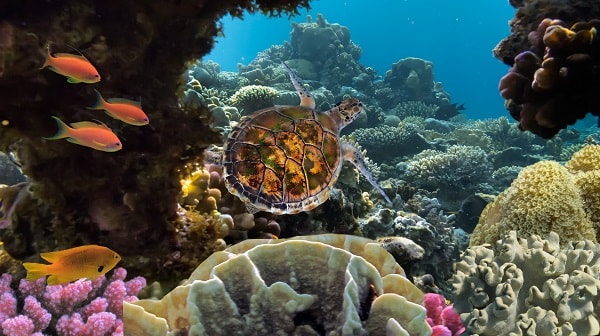 Few things are more beautiful than the wonders of nature. Whether you want to marvel at breathtaking landscapes or simply learn a little more about the world around you, there are plenty of films to satisfy your curiosity. Here's a look at five great movies about animals and nature.
March of the Penguins (G)
This feature-length nature documentary follows the lives of emperor penguins surviving in the unforgiving, frozen land of Antarctica. The filmmakers captured beautiful key moments in the emperor penguin's life cycle, from their sweet, subdued courtship rituals to the moment their fluffy chicks hatch. Kids and adults alike will marvel at the stark beauty of Antarctica, the adorable penguin chicks and the heartwarming family moments captured in this movie.
Bears (G)
Whether you're young or old, you won't be able to resist falling in love with this family of grizzly bears. Disneynature takes viewers to the furthest reaches of Alaska to tell the real-life story of a brown bear mother named Sky and her two cubs, Scout and Amber. The film shows both tender moments and action-packed drama, as Sky defends her family from threats like wolves and rival bears. Although the movie is full of sweet moments, the producers don't sugarcoat the harsh truths of nature.
African Cats (G)
Another excellent piece by Disneynature, "African Cats" showcases the lives of two rival feline families. The film follows Mara, a lion cub, and Sita, a cheetah cub, as they strive to grow up in the harsh, but beautiful savanna of Kenya's Amboseli Wildlife Corridor. This film is packed with gorgeous scenery, majestic cinematography and of course, adorable baby animals. It's hard not to be moved by their love and kinship — especially when Samuel L. Jackson's narration adds a boatload of humor and charm to the already-marvelous animal antics on display. Although no gore or violence is shown, sensitive viewers might want to look away when the animals chow down on zebra meat.
Pick of the Litter (Unrated)
Who doesn't love puppies? This upbeat documentary follows five puppies training to become guide dogs for the blind. Watching the film, you'll be amazed at how much each pup has to overcome to make the cut. From rigorous training to emotional goodbyes, the film offers plenty of cute moments and emotional resonance without being saccharine. Although the movie isn't aimed at children, this gentle documentary is family friendly. Young viewers will enjoy watching the puppies grow up, while learning valuable lessons about guide dogs and the challenges that visually impaired people face.
Kedi (Unrated)
These aren't your average alley cats. "Kedi" delves into the complex social lives of seven stray cats that roam the streets of Istanbul. However, this film delivers more than a cat's-eye view of New Rome — it shows how cats enrich communities and people's lives. The film is in Turkish with English subtitles, so young viewers may need help following the narrative.
Grab the popcorn and put on one of these great movies. The whole family is sure to enjoy these five fascinating educational films about our amazing planet and its animal inhabitants.
This article is presented by Zimbrick European