Meet the Lexus J201 Concept
This premium vehicle is made for overland travel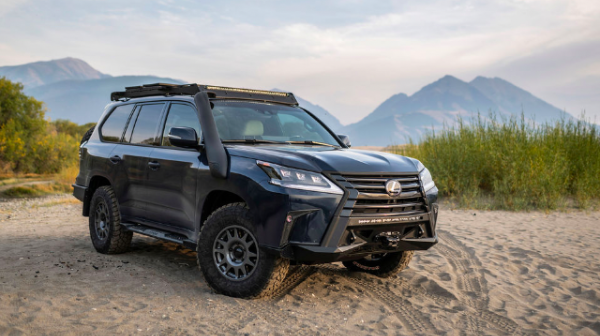 Longtime Lexus LX drivers are, of course, familiar with the model's reputation as a premium adventure vehicle. After all, this is the model various Lexus-associated racing teams have often chosen to specially modify for grueling, multi-day off-road races like the Baja 1000.
It's in this spirit of off-pavement adventurism that Lexus recently unveiled the
Lexus J201 Concept
[1], an enhanced version of the LX 570 that's capable of handling the rigors of overland travel—while still offering drivers a premium feel.
Designed in part by off-roading experts, the J201 Concept is equipped with an array of features made for off-road conditions. For starters, there's a winch system in the front bumper, along with a 30-inch light bar designed to enhance nighttime visibility.
The vehicle is also reinforced with body protections such as rock sliders, which help protect the underbody against knocks from larger rocks, as well as skid plates, which help protect undercarriage components in the event of ground contact. Plus, there's an off-roading rear-bumper system with durable 5-gallon water cans and a rear ladder for access to the roof rack system.
Performance-wise, the J201 Concept is powered by a 550-horsepower[2] Magnuson Supercharger engine, and it's equipped with 33-inch General Grabber X3 tires designed to provide a reliable grip on extreme off-road mud, dirt, and rocky terrain, as well as a quiet ride on paved roads.
Other off-roading attire includes a snorkel system, which draws air to the engine from the roof level, as extreme overlanding conditions generally require snorkels for deeper-water crossings to keep water from blocking airflow to the engine. The high-placed air intake also helps keep the engine supplied with cool, clean air in dusty road conditions.
Lexus has also purposely infused the vehicle with a sense of premium hospitality, much like the production LX flagship. Overland-capable vehicles—while made to be extremely durable—are generally not known for their comforts and refinement, but the Lexus J201 Concept trailblazes new ground in this regard.
In addition to giving the driver and passengers many of the driver-focused cockpit comforts of the Lexus LX, the J201 Concept comes with premium aluminum travel cases from Zero Halliburton
®
, which fit neatly into the rear cargo area.
It also comes equipped with a digital control system that conveniently centralizes the command of the vehicle's special off-pavement systems (such as the battery monitor and air compressor system), replacing gauges and buttons with a sleek, touchscreen interface.
There's also an elegant, rear-extending drawer arrangement in the back for holding equipment and gear, and the vehicle even anticipates the needs of pets: the rear cargo area includes built-in water and food bowls for dogs accompanying their owners on outdoor excursions.
By Brian Gill
[Disclaimers]
[1] Vehicle shown is a special project car, modified with non-Genuine Lexus parts and accessories. Modification with these non-Genuine parts or accessories will void the factory warranty, may negatively impact vehicle performance and safety, and may not be street legal. Off-roading is inherently dangerous. Abusive use may result in bodily harm or vehicle damage. Wear seatbelts at all times and do not allow passengers in cargo area.

[2] Ratings achieved using the required premium unleaded gasoline with an octane rating of 91 or higher. If premium fuel is not used, performance will decrease.