Tasty and Healthy One-Pan Meals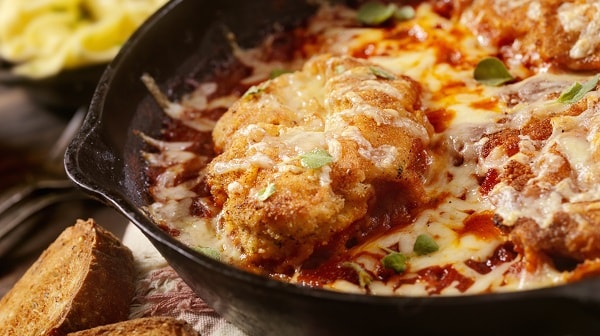 Who wants to spend time cleaning up piles of pots, pans and serving trays right after slaving away in the kitchen? Reduce your post-cooking clean-up time by limiting your dishes to just a single large skillet. These three recipes are great places to start, but you can use them as inspiration to develop your own single-pan meals your family will enjoy.
Sesame-orange ginger chickpea stir-fry
If you think of a single-pan meal, your mind probably goes right to a particular type of dish: a stir-fry. Monique of Ambitious Kitchen has a savory vegetarian stir-fry recipe worth trying.
To make her sesame-orange ginger chickpea stir-fry, start by cooking some quinoa in the skillet. Once it's soft, set the quinoa aside. Then, cook a 15-ounce can of chickpeas in sesame oil in the same skillet. Once they're cooked, set those aside and add another dash of oil to cook a coarsely chopped red onion, sliced red bell pepper, garlic cloves and 1/2-pound of fresh green beans.
As these ingredients are almost cooked, add in ginger sauce and stir. You can make your own using orange juice, honey, soy sauce, grated ginger and cornstarch, or you can use a premade sauce from the grocery store. Once the sauce soaks in and thickens, serve the stir-fry over the quinoa.
Turkey tacos
You don't need to set out a whole buffet line for people to assemble these turkey tacos; all you need is a skillet. Jennifer of Show Me the Yummy shares this light, flavorful dinner idea.
Cook one pound of extra lean ground turkey, a small diced yellow onion, a diced green bell pepper, a diced red bell pepper and a mix of spices (chili powder, smoked paprika, cumin, garlic powder, salt and pepper) together in the skillet. Once the meat is nearly cooked through, add 1/4-cup of water and let the mixture simmer until it thickens. To serve, scoop the filling into a lettuce wrap and top with Greek yogurt.
Hearty paella
Try an exotic dish by cooking this single-skillet paella from this Taste of Home recipe. It doesn't even take much preparation beforehand.
Cube 1 1/4-pounds of skinless chicken breasts and cook it thoroughly in oil. Set the chicken aside, but add a cup of uncooked long grain rice and a chopped onion to the oil, letting the rice turn golden. Toss in two minced garlic cloves, then wait a minute until stirring in 2 1/4-cups of low-sodium chicken broth, 14 ounces of undrained diced tomatoes and the following spices: oregano, paprika, saffron, turmeric, salt and pepper. Boil the skillet's contents then keep the heat reduced for 10 minutes. Add a pound of uncooked shrimp, 3/4-cup of frozen peas and 12 green olives, letting the skillet continue to simmer until the rice and shrimp are cooked. Re-add the cooked chicken and serve with lemon wedges. This amount serves six people.
Just because you're cooking in one pan doesn't mean your meal possibilities are limited. Use ingredients that you don't typically and plan your preparation steps beforehand, and you'll have a delicious dinner soon with minimal clean-up afterward.
This article is presented by Copeland Chevrolet.