Consider Yakima Accessories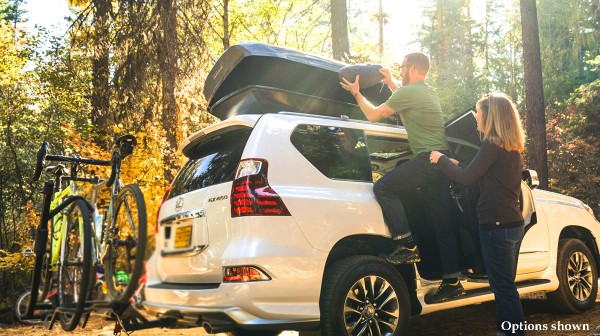 As the 2021 warm season approaches, Lexus would kindly like to remind you that your premium vehicle is meant for much more than life's necessary routines. In other words, no matter which model you drive, your Lexus is an adventure vehicle, with a firm emphasis on
your
personal definition of adventure.
It's with this in mind that in addition to offering superb, recreation-minded Lexus Genuine accessories, many Lexus dealerships also offer accessories from Yakima
®
—the renowned maker of gear-carrier solutions for biking, watery pursuits, road trips, and general outdoor fun.
If you're familiar with Yakima, then you already know its carrier systems are durable, well-engineered, and highly respected for quality, which make them a natural fit for Lexus models. They also pair well with complementary Lexus Genuine accessories like cross bars[1] and tow hitch receivers[2] (for models that offer them).
Participating dealers vary in how they offer Yakima items, but working with a Lexus service advisor is a great way to outfit your vehicle through the personal attention of a Lexus dealership. Service advisors at participating dealerships can guide you through your options, but here are a few highlights:
IF YOU'RE A CYCLIST:
Yakima rooftop bike-carrier systems include both sturdy fork-mount systems (where the front wheel is removed) and easy-to-operate locking systems that don't require wheel removal. Yakima also offers myriad rear hitch-mount bike-carrier systems that pair with a Lexus Genuine tow hitch receiver.
IF YOU LOVE WATERSPORTS:
Yakima accessories also include an array of kayak-carrier systems, as well as paddleboard/surfboard carriers that can hold and lock up to two boards at a time. Yakima also offers a load-assist system for larger vehicles that allows you to load either two boards or one kayak at waist level, then gently raise them to the rooftop position.
IF YOU'VE GOT A ROAD-TRIPPING FAMILY:
Your Lexus is a family-memory maker, so definitely ask your dealership about Yakima's ample-yet-aerodynamic rooftop cargo boxes, which come in multiple sizes. Also cool: if your road trip involves camping, Yakima offers a raised rooftop tent system that provides off-the-ground sleeping quarters with a side extension from the roof (with a ladder to the ground, of course). Yakima camping accessories also include awning systems that extend from a vehicle's roof.
IF YOU'RE A SKIER OR SNOWBOARDER:
It's also never too early to look toward the 2021–2022 snow sports season. Skiers and snowboarders generally have two equipment-transportation philosophies—clamp system or cargo box. A Lexus service advisor can guide you through the array of options that fit various Lexus models.
By Brian Gill
Legal Disclaimers
[1] Do not overload your vehicle. See Owner's Manual for weight limits and restrictions.

[2] Before towing, confirm your vehicle and trailer are compatible, hooked up and loaded properly and that you have any necessary additional equipment. Do not exceed any weight ratings and follow all instructions in your Owner's Manual. The maximum you can tow depends on base curb weight plus the total weight of any cargo, occupants, and added vehicle equipment. "Added vehicle equipment" includes additional standard/optional equipment and accessories added by the manufacturer, dealers, and/or vehicle owners. The only way to be certain of your vehicle's exact curb weight is to weigh your vehicle without passengers or cargo.