The New BMW Concept i4
Pure-electric Gran Coupe previews production car coming in 2021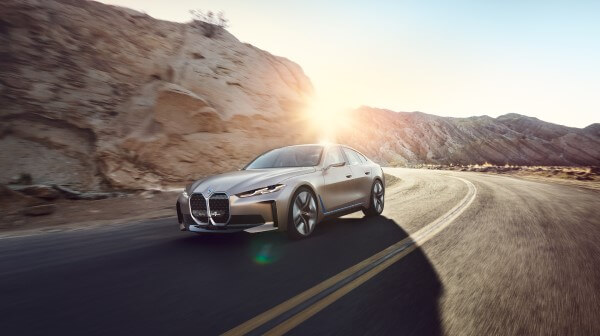 BMW is bringing its legacy for building electrifying vehicles into a dynamic new era. The all-new BMW Concept i4 takes the iconic style and performance of the Gran Coupe and infuses with a futuristic aesthetic and zero-emissions driving. The result is the incredible forbearer for the first all-electric midsize premium sedan, slated to enter production in 2021.
"The BMW Concept i4 brings electrification to the core of the BMW brand," says BMW Group Design Senior Vice President Adrian van Hooydonk. "The design is dynamic, clean and elegant. In short: a perfect BMW that happens to be zero emission."
The BMW Concept i4 hearkens to the beloved BMW Vision iNext with its Frozen Light Copper hue, tasteful blue accents and massive kidney grille. With its sleek fastback shape, low-slung stance and short overhangs, there's no confusing the Concept i4 for anything but a BMW Gran Coupe. Melding heritage with the high-tech is how BMW manages to embrace the future and pay homage to its past, bringing generations of loyal drivers along for the ride.
A key part of the Ultimate Driving Machine
®
formula is the way you feel when you're behind the wheel. The all-new BMW Concept i4 addresses this component with its aerodynamic exterior, which boosts its nimble driving dynamics, and an incredibly light curb weight of just over 1,200 pounds. Leveraging fifth-generation BMW eDrive technology, the Concept i4 — and the eventual production BMW i4 — delivers a robust 530 horsepower.
Though the BMW eDrive system used in the Concept i4 is on par with the output of a V8, it delivers that muscle without any emissions. Leveraging an 80-kilowatt-hour, slim-construction battery, the BMW Concept i4 offers EPA-estimated range of up to 270 miles on a full charge. Never before has doing your part for the environment felt so satisfying.
While the new BMW Concept i4 may look like something from the far-flung future, reality is closer than you think. Production of the BMW i4 gets underway at the BMW Group plant in Munich in 2021, bringing the future of premium sustainable driving to the present as only BMW can.
This article is presented by The BMW Store.