Volvo Drops Cars from Cranes to Help Train Rescue Personnel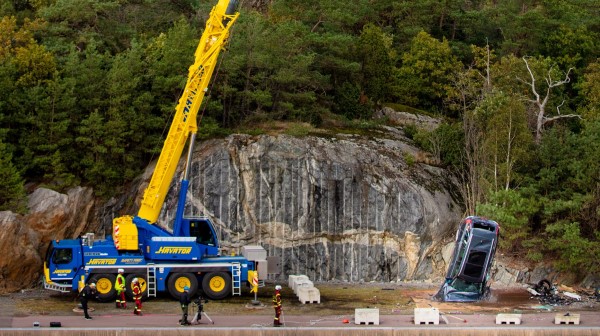 When a catastrophic car accident occurs, rescue crews spring into action to save lives. The Volvo Cars Safety Center has long invited these first responders to train using the facility's state-of-the-art crash simulations. But now, Volvo is going the extra mile to help these extrication specialists gain hands-on experience dealing with extreme crashes.
Crashing cars to save lives
When it comes to rescuing passengers from crashed cars, rescuers need to be prepared for everything. While crews have long trained at the Volvo Cars Safety Center, until recently, there wasn't a way to practically replicate severe accidents with modern vehicles.
For the first time in the Volvo Cars Safety Center's history, it's using an industrial crane to drop brand-new Volvo models from 30 meters in the air. By subjecting these vehicles to nearly 100-foot drops, engineers can duplicate accidents that are more extreme than what normal crash-testing machinery can produce. This long drop method allows engineers to recreate the damage caused by high-speed impacts, collisions with large vehicles, and heavy side impacts.
"We hope no one ever needs to experience the most severe accidents, but not all accidents can be avoided," explained Håkan Gustafson, one of the senior investigators on the Volvo Cars Traffic Accident Research Team. "So it is vital there are methods to help save lives when the most severe accidents do happen."
The importance of using modern vehicles
In most rescue simulations, the vehicles used are typically more than 20 years old. However, from safety cage engineering to the quality of materials, a lot has changed in automotive designs over the past two decades. That's why it's important for rescue personnel to practice on newer models.
Volvo rose to the occasion by volunteering 10 vehicles of varying models for use in crash testing. Each one was hoisted nearly 100 feet into the air and dropped multiple times. Volvo safety engineers carefully calculated each drop to simulate different accident scenarios.
"Normally we only crash cars in the laboratory, but this was the first time we dropped them from a crane," Gustafson said. "We knew we would see extreme deformations after the test, and we did this to give the rescue team a real challenge to work with."
Overcoming that challenge is a key part of extrication training. After the simulated crashes, extrication experts get to work using hydraulic tools, like the "jaws of life", to rescue the simulated passengers. By practicing these tough scenarios, first responders can learn to quickly extract passengers and get them medical care within the "golden hour" — a time frame that helps maximize a patient's chances of recovery.
Best of all, Scandinavian extrication experts won't be the only ones to benefit from training. Volvo will make all of this crash-rescue research freely available to rescue workers around the world, so everyone can learn and benefit from this groundbreaking program.
If you'd like to experience the precision engineering that goes into each and every Volvo model, shop with us and consider upgrading to a Volvo.
This article is presented by Stadel Volvo.