Glimpsing the Lexus EV Future
How Lexus' recent concept vehicle points the way forward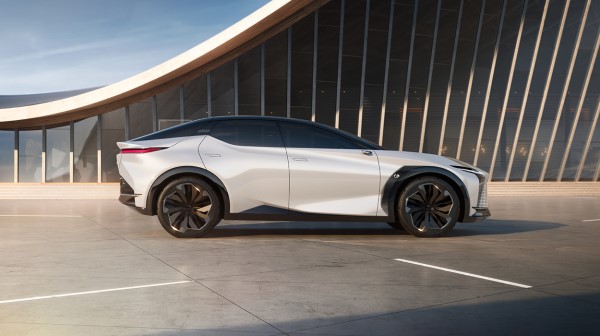 It's not exactly a time machine, but the Lexus LF-Z Electrified Concept is still an intriguing peek at your driving future.
But first, just in case you missed the vehicle's debut, here's a quick look at what this innovative concept is all about. Unveiled in early spring 2021, the LF-Z Electrified Concept is a substantial stride forward in Lexus-style electric-vehicle driving. Like the earlier Lexus LF-30 Electrified concept, released in 2019, this latest concept is a battery-electric vehicle (BEV), meaning that it's all-electric, with no plug-in or hybrid drive system.
The concept also contains design touches and technologies you may eventually see in future Lexus EV production models:
Let's start with the exterior:
Electric vehicles, which don't need to be shaped around a traditional powertrain, create all kinds new design possibilities, and Lexus designers have been exploring what this could look like. Consider this concept vehicle's front end. Whereas the Lexus spindle grille has been a defining design element for all recent Lexus models, it's no longer needed in an EV, since all-electric vehicles don't require air intake to cool a gas engine.
Instead, the Lexus LF-Z Electrified Concept's front-end retains a grille-shaped space, but compresses it into an aggressive, low-to-the ground shape—a ground-hugging starting point that begins an upward sweep all the way to the vehicle's rear peak. It's an evolving Lexus profile that may define Lexus all-electric vehicles.
Electrified performance technologies:
The same goes for new technologies that harness an EV's electrical power to accentuate vehicle handling in new ways. The LF-Z Electrified Concept, for example, uses Lexus'
DIRECT4 drive system
, a new technology likely to appear on production EV models.
In a nutshell, the system can quickly funnel an EV model's e-power to an electric motors at each wheel to continually respond to your driving intentions—it's a leap forward in Lexus vehicle handling response. It's also part of Lexus' evolving, and unique, driving signature, which aims to deliver a heightened, satisfying human-machine connection that will potentially pervade future Lexus models.
Advanced Artificial Intelligence:
Also contributing to this unique Lexus driving signature is the LF-Z Electrified Concept's amplified Artificial Intelligence (AI) capabilities, which are also technologies that could potentially be added to Lexus production EVs. For starters, the concept vehicle is designed to learn the driver's driving style and then continuously predict driver intentions for a fluid driver-vehicle connection.
Advanced AI capabilities also extend to vehicle's voice communication system, which can recognize, learn, and adapt to a driver's preferences to improve the vehicle's concierge-like ability to anticipate a driver's navigation desires.
Of course, it remains to be seen whether other intriguing features in the LF-Z Electrified, Concept, such as augmented reality and hand-gesture-controlled convenience features, will eventually appear in Lexus EV showroom models.
But here's something that is known: by 2025 Lexus will introduce 20 new vehicle models that include BEVs like the LF-Z Electrified Concept; PHEVs (plug-in hybrid vehicles); and other types of electric vehicles. This mean that the LF-Z Electrified Concept is more than a peek at your Lexus-driving future—it's a glimpse at your coming Lexus choices.