High-Tech Tools: A Lexus Advantage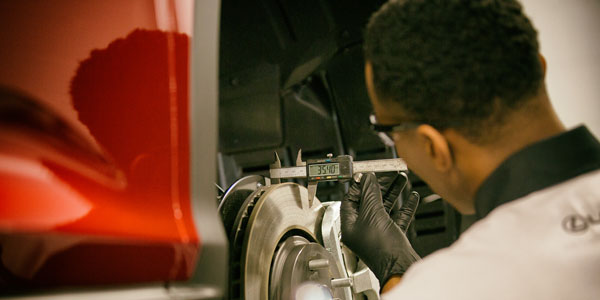 It goes without saying that Lexus vehicles are high-tech wonders, and we're not just referring to convenience and entertainment features like Amazon Alexa®[1] and Apple CarPlay®[2] compatibility and the voice-activated Navigation system[3]. Every time you accelerate, brake, turn, or drive in reverse, an intricate series of technologies sync like an orchestra to help your vehicle perform with extreme precision.
It stands to reason, then, that each time you drop off your Lexus for service, your Lexus dealership's technicians employ equally advanced instruments to diagnose and care for your Lexus. These tools not only help them quickly diagnose a maintenance issue—they're designed to benefit Lexus drivers with speedy service.
One the most important tools, for example, is the Techstream system scanner:
This laptop-like diagnostic device, which looks a bit like a scientist's field computer, is often one of the first tools a Lexus-certified technician applies to your vehicle. It plugs into your Lexus and can instantly examine, depending on the model, around 70 vehicle systems. This serves as both a general vehicle-health reading and a way to quickly identify a specific maintenance issue.
"The scanner will often show us the source of a malfunction right away," explains John Dascher, a master Lexus certified technician. "In more complicated cases, we can analyze the vehicle's variety of data, then apply our Lexus-specialist knowledge to zero in on the issue's likely cause."
In both cases, says Dascher, the scanner helps Lexus technicians quickly identify and repair a malfunction: "Instead of having to individually test multiple systems to arrive at a conclusion, we can see the big picture fast. Interpreting this data often results in a minimally intrusive diagnosis requiring less vehicle disassembly. Bottom line: accurate diagnostics and fast service for guests." After the repair, Lexus technicians may also use the scanner to confirm the fix during a test drive.
Behold the oscilloscope:
In some cases, Lexus technicians will have to dig a bit deeper to be sure they're on the right track, and that's where tools like the oscilloscope come in.
Because much of your premium Lexus relies on electronic communication between systems, the rectangular, tablet-like oscilloscope—which also plugs into your Lexus—looks for breaks or weak links in those communications. The device then represents the breaks in a digital graph (it's sort of like an x-ray for your Lexus' precision electronics, says Dascher).
By reading the graphs, a Lexus certified technician can see communication breakdowns and then identify the system to fix. "It's another tool that allows Lexus technicians to quickly get to what I call the '10 percent' possibilities, the elimination of 90 percent of what could be causing a harder-to-identify malfunction. Working with the data, and other instruments, we can then target the right fix."
And then there's the amazing TIS system:
Each Lexus certified technician is also connected to a networked computer system that communicates with Lexus vehicles equipped with Enform Service Connect[4]. Here's why the system is brilliant: via Service Connect, a Lexus can tell the TIS system, in real time, about system malfunctions as they happen.
This gives your Lexus certified technician incredible context, says Dascher. "If a guest brings in a vehicle, for example, because a check-engine light had appeared, I can pull up the vehicle's real-time communication history with the TIS system, which may show exactly when a system malfunctioned that caused the engine light to appear. This helps me quickly diagnose the precise issue and make the repair."
And in some cases, says Dascher, the TIS system even allows Lexus certified technicians to diagnose a malfunction without drivers needing to come in.
"When a driver calls in an issue to a service advisor, the next step is to alert a Lexus service technician. We can then pull up the vehicle's real-time under-the-hood happenings via the TIS system, which can show what went wrong before and as the malfunction happened. With that info, we may be able to clearly diagnose the issue, and advise the guest as to how urgently she or he should bring their vehicle by for a fix—and already know what to fix when the vehicle arrives."
Brian Gill
[Legal Disclaimers]

[1] Amazon, Alexa, and all related logos are trademarks of Amazon.com, Inc. or its affiliates. Not all Amazon Alexa functionality is available for in-vehicle use.

[2] Apps and services are subject to change at any time without notice. Data charges may apply. Apple CarPlay functionality requires compatible iPhone connected with approved data cable into USB media port. Apple CarPlay, iPhone, and Apple Music are trademarks of Apple Inc. Apple CarPlay functionality requires compatible iPhone connected with approved data cable into USB media port. Apple CarPlay, iPhone, and Apple Music are trademarks of Apple Inc.

[3] Be sure to obey traffic regulations and maintain awareness of road and traffic conditions at all times. Availability & accuracy of the information provided by the Navigation System is dependent upon many factors. Use common sense when relying on information provided. Services & programming subject to change. Services not available in every city or roadway. Updates may be available from your dealer at an additional cost. See Owner's Manual for details.

[4] Information provided is based on the last time data was collected from the vehicle and may not be up to date. Service Connect is dependent upon an operative telematics device, a cellular connection, navigation map data and GPS satellite signal reception, and other factors outside of Lexus' control, which can limit the ability or functionality of the system. To learn about Lexus Enform's data collection, use, sharing and retention, please visit https://www.lexus.com/privacyvts/. The Service Connect trial period is at no extra cost and begins on the original date of purchase or lease of a new vehicle. After the respective trial period expires, enrollment in paid subscription is required to access the service. Terms and conditions apply.