Explore the North in Oslo, Norway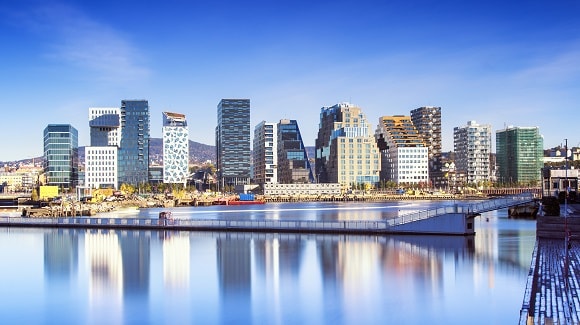 When the rest of the Northern Hemisphere is baking in the sun this summer, you might want to flee to somewhere cooler. Scandinavia, with its temperate climate, is the perfect destination, and the Norwegian capital of Oslo has plenty of city fun and natural beauty for a well-rounded vacation.
What to do
Just like other European capitals, the city of Oslo has several museums to check out during your visit. If you prefer one with hands-on activity, or you're traveling with children, consider heading to the
Norwegian Museum of Science & Technology
for hours of fun. When you're ready for a trip back in time, Norsk Folkemuseum, or
Norwegian Museum of Cultural History
, is an essential stop. It's one of the world's largest open-air museums and lets you walk through hundreds of years of Norwegian life. When you visit, you can talk to interpreters in period dress as you see 155 traditional homes in styles from all over the country.
Museums are great, but there are plenty of other ways to enjoy Oslo. In the warmer months, the
TusenFryd Amusement Park
has several unique rides to get your adrenaline pumping. Oslo has many green spaces to enjoy as you stroll through the city, such as the
Ekebergparken Sculpture Park
and
Vigeland Park
, which are both full of statues you can enjoy for free. Don't worry if you're stuck inside on a rainy day with kids, as there's
Leos Lekeland Oslo
, an indoor playground with epic slides, mazes, and trampolines.
If you have time during your visit to take a jaunt outside of Oslo, consider heading to Norway's Western Fjords. The United Nations preserves two of the bodies of water, called
Nærøyfjord and Geirangerfjord
. This means that they are perfect to hike around or kayak on. Several tour companies lead expeditions to these marvels from Oslo if you choose to head out on an adventure.
Where to eat
When you visit Oslo, you should make sure you get a good taste of Scandinavian cuisine. Founded in 1857,
the Engebret Cafe
is the city's oldest restaurant and a great choice for local delicacies like reindeer carpaccio, smoked whale and cod. The
Kafe Asylet
has several traditional dishes as well, but it's also known for its vegetarian options if you have special dietary needs.
Having a sit-down meal is great, but sometimes you need to eat on the wild side. To get a broad taste of Oslo life, consider heading down to the
Mathallen Food Hall
. It's home to more than 30 specialty shops, eateries and cafes, which means that there should be a dish for you even if you're a picky eater. Vendors are reportedly happy to discuss their wares and make recommendations, and once you make your purchases you can head to Torget, the common serving area in the middle of the market.
Oslo might not be at the top of your list when naming off Europe's capital cities, but it's a great place to go for adventure and culture. Consider heading north the next time you take off on an overseas vacation.
This article is presented by BMW of Cincinnati North.