Vehicle Profile: 2020 Lexus RC Performance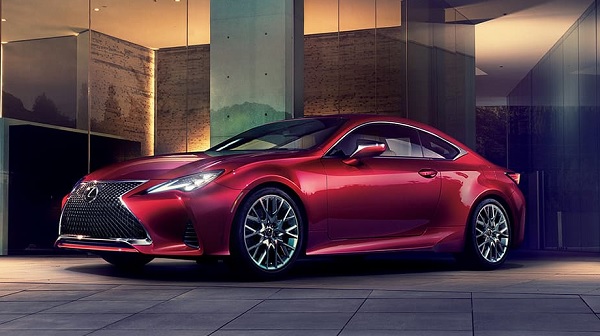 The 2020 Lexus RC is one of the luxury brand's most capable models. Engineered to combine sensible handling with easy-to-use power, it's also offered with an F Sport model that transforms the RC from a sporty road car to an aspiring track star.
Under the hood
The 2020 Lexus RC uses a 3.5-liter V6 engine that puts out a memorable engine note not dissimilar to that of the Lexus LFA. And while power, at 311 horsepower and 280 lb-ft of torque, isn't quite a match for the iconic supercar, the RC delivers it in a way that truly satisfies the senses — in part because there's no turbocharger anywhere in sight. No turbo means no turbo lag, and that means instantaneous response whether you opt for the rear-wheel-drive or the all-wheel-drive model. The engine is good enough that it gets no changes on the F Sport model; however, there is an available 241-horsepower, 2.0-liter four-cylinder for those seeking a healthy dose of performance that doesn't compromise fuel economy. This one does feature a turbocharger, and a very refined and quick one at that: once at full boost, it never seems to let up. Expect about 30 mpg on the highway with this model.*
High-tech transmission and driving modes
Arguably, the transmission is the 2020 Lexus RC's cleverest component. The eight-speed Direct-Shift automatic not only combines ultra-fast shifting with downshift rev-matching technology, it also knows just how aggressive it ought to be based on how you drive. While in Sport S or Sport S+ mode, the transmission detects g forces and uses this information to determine when it should shift. For example, when you enter a corner at high speeds, it knows based on the g forces that it should maintain a lower gear to give you more performance when you power out.
The 8-speed Direct-Shift automatic also comes with paddle shifters mounted on the steering wheel, allowing you to take control over the shifts if you so feel — but without having to work a clutch pedal or take your hands off the steering wheel. The way racing drivers do it.
It's worth pointing out that the Sport S+ mode also increases the Lexus RC's steering response and tightens the suspension, giving you an even more dynamic experience behind the wheel. And when you just want to relax, there's always the Normal Mode and Eco Mode, as well as a Custom Drive Mode that you can tailor based on your own preferences.
Cornering and handling
The 2020 Lexus RC, and in particular the RC F Sport, is at its best when the straight lines end and the corners begin. For starters, the massive 14-inch front brakes ensure that you have ample stopping power, using a combination of high-friction pads and a unique multistage booster designed specifically for the F Sport. Then there's the handling: The Adaptive Variable Suspension adjusts each wheel's shock absorbers in real time to compensate for body roll, providing greater cornering response and more stability. Meanwhile, at high speeds, Dynamic Rear Steering can turn the rear wheels in the same direction as the front wheels to provide even more agility and stability; and at low speeds, it turns them in the opposite direction to enhance maneuverability in close spaces. Other features, like a limited-slip differential and variable gear-ratio steering, further bolster the car's cornering performance.
Though the 2020 Lexus RC delivers ample performance, it never feels like you need a racing license to handle it. That approachability, and its sensibility in regular driving conditions, make it easy to love even if speed is not at the top of your priorities list.
*2020 Lexus RC 300 (RWD) EPA 21/city, 30/hwy, 24/comb mpg estimates. Actual mileage will vary.
This article is presented by North Park Lexus of San Antonio.