Fun Craft Projects to Make With Yarn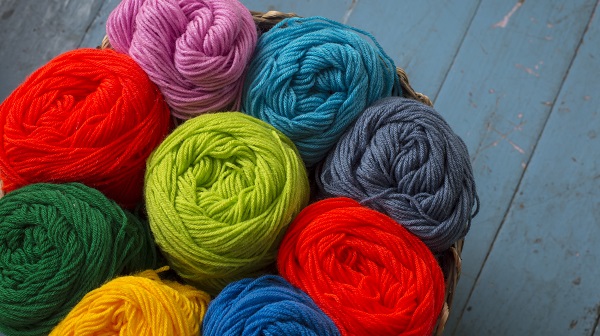 If you have extra yarn lying around the house, spend a free afternoon using that yarn in a fun craft project. Not only will you enjoy doing the following crafts, but you'll also appreciate their charming and practical end results.
House decorations
To add some texture and creativity to your home, utilize yarn in your decorating. Create a lovely wall hanging by simply tying strands of yarn to a macramé hoop. For the best look, use three different colors of yarn, and have one designated section for each color. If you want to brighten up a bare wall even further, make a yarn word. Twist pipe cleaners until they're in the shape of your last name or another word and then wrap several pieces of yarn around them. Once you tie all the pieces to the pipe cleaners, hang up your word in your living room.
Another great option is to make a yarn-covered monogrammed letter for your or your kids' bedroom. All you need is yarn in three shades of your favorite color, a wooden letter, and craft glue. Put glue to the back, bottom, and top of the letter and then wrap yarn around it, transitioning between the different colors of yarn as you go. The easiest way to do this is to glue just a few inches at a time before continuing on and to wait for the whole craft to dry before cutting the ends of the strands.
Accessories
Whether you want new pieces of jewelry for yourself or as a gift for your loved one, making your own jewelry is a fantastic idea. Simply cable braid yarn to create a comfortable and unique bracelet or necklace. In addition, craft adorable cuff bracelets with your kids using an empty toilet paper roll and yarn. Cut the roll so that it fits around your child's wrist and then use clear tape to keep one end of the yarn in place while wrapping the yarn around the roll. When you're finished, put glue under the other end of the yarn to secure it.
In addition to jewelry, yarn also brings more color to your shoes. If you have a pair of plain flip-flops, cover the plastic strap with yarn. Tie a strand to one end of the plastic strap, create a loop, and pull the strand through the loop to make a tight knot. Continue making knots until the strap is completely covered.
Kitchen extras
Give your kitchen a cozier feel by adding crafts throughout. Crochet drink coasters in different patterns to create anything from a snowflake to a watermelon coaster. Hold a pint of ice cream or a bowl of hot soup more comfortably by crocheting a cozy. Add more character to your kitchen with yarn food. Fake carrots, for example, are great decorations for the spring season. Just form a narrow cone using cardstock, cover it in tacky glue, and then wrap it in orange yarn. At the widest part of the cone, glue a green tassel to represent the top of the carrot.
Each of these craft projects is enjoyable to do either on your own or with family. Be sure to try them out the next time you have spare yarn.
This article is presented by Krause Toyota.