MINI AND BEST FRIENDS ANIMAL SOCIETY HOLD 'PUP-UP' IN NYC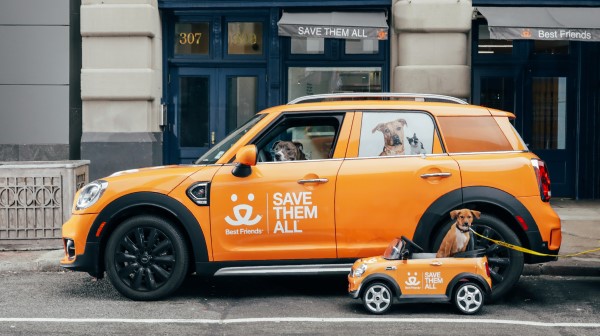 This past October, we teamed up with Best Friends Animal Society, America's largest no-kill animal sanctuary and shelter, to hold a "pup-up" event at the Best Friends Lifesaving Center in New York City. Our MINI of Mutthattan event was part of BFAS' Strut Your Mutt Day and saw adoption fees for dogs and cats waived for the entire day. By making it easier for animals to find loving forever homes, we worked together toward our shared DRIVE to Save Them All
®
.
"Passion is at the core of the MINI brand and we know that MINI owners and dealers are equally as passionate about their pets, in fact, 65 percent of our owners have a dog or cat at home." said Steve Ambeau, Department Head, MINI Brand Communications, MINI USA. "For this reason, we feel it's not only the perfect partnership, but also important for us to do everything we can to support the drive in helping to find pets happy homes and save them all."
MINI doesn't just make vehicles like the Countryman and Clubman that are great for pets, but we've also worked with Best Friends Animal Society since 2013 to make sure more animals have happier lives. Every year, MINI Dealers across America support Strut Your Mutt events — this year, dealerships in Jacksonville, Florida; Los Angeles; Minneapolis-St. Paul; Phoenix; Salt Lake City; and Washington, D.C., helped raise money and find families for homeless pets.
According to CEO Julie Castle, Best Friends Animal Society's 13 Strut Your Mutt events raised $2.33 million for pets in need. That money goes toward the organization's overarching goal of nationwide no-kill for dogs and cats by 2025. To learn more about the mission of Best Friends Animal Society and how you can help it achieve its ultimate goal, visit
BestFriends.org
.
This article is presented by Cincinnati MINI.