3 Delicious Squash Recipes Your Kids Will Love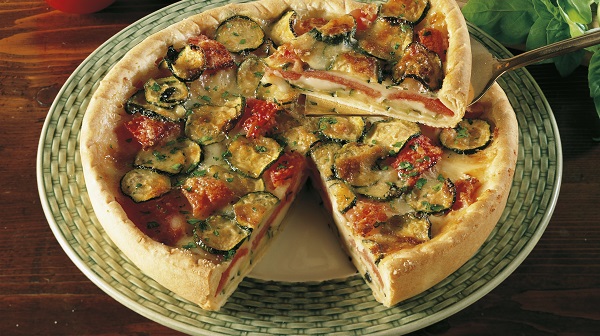 Mention squash to your children, and that's likely what their faces will do in disgust at the thought of eating it. Foods like acorn squash, spaghetti squash, and butternut squash are far from kids' favorite side dishes, but they can become much more appetizing based on how you prepare them. Here are some ideas to win your children over to gourds.
Pizza spaghetti pie
It's not hard to get kids to like eating spaghetti squash; they'll practically devour it if you prepare it like noodles with garlic, butter, and cheese. This nutritious, low-carb alternative to pasta is packed with vitamins and minerals and is a common substitute for noodles. Juli Bauer shares such a recipe on her website PaleOMG — and it only needs a handful of ingredients.
Take a large, whole spaghetti squash and cut it in half lengthwise. Place both halves on a foil-lined baking sheet and put it in a 400-degree oven for 20-25 minutes. Once the skin becomes soft, remove the squash from the oven and lower the heat to 350 degrees. Scrape the stringy pulp out with a fork, separating the strands as you drop them into a greased 8-by-8 casserole dish.
In a large pan on the stove, cook 1 pound Italian sausage and 1/2 yellow onion that's been diced. Break the meat up so it cooks evenly. Once you don't see any pink, add 1 cup pizza sauce, 1 teaspoon dried basil, and pinches of salt and pepper. Dump this whole mixture into the casserole dish and mix it with the squash. Crack 3 whisked eggs into the dish and mix again.
Bake at 350 degrees for an hour. Serve once the casserole forms a crispy crust along the edges.
Rosemary butternut squash fries
French fries can pair with practically any meat and make an easy meal for your kids — though not necessarily a healthy one. Luckily, you can substitute those potato strips with squash "fries." Just follow Linda Spiker's recipe from her website The Organic Kitchen.
Peel one large butternut squash and then cut it in half. Scoop out the seeds and cut the remaining flesh into fry-shaped rectangles — about 1/4-inch thick — that you'll spread across a parchment-covered cooking sheet. Drizzle the uncooked fries with olive oil and then sprinkle them with sea salt, ground pepper, and freshly chopped rosemary leaves.
Bake the tray in the oven for 40-50 minutes at 400 degrees until the fries start browning and crisping at the tips. Make sure you flip the fries halfway through so they cook evenly.
Acorn squash pancakes
You can even use squash as the foundation of every child's favorite breakfast: pancakes! Skeptical? Check out this recipe from Nikki Dinki on her website Nikki Dinki Cooking.
Cut one large acorn squash in half and scoop out the seeds. Soften them by cooking face-up on a baking sheet in the oven for 30-40 minutes at 450 degrees. Drizzle some olive oil on the squash halves before sliding them in so they don't dry out.
Once the squash is soft, scoop out the flesh and puree it in a blender. Add 2 cups flour, 1/2 cup whole milk, 2 large eggs, 2 teaspoons baking powder, 1 teaspoon vanilla extract, and 1/2 teaspoon kosher salt to the puree and continue blending them together.
Now you can use the mixture like normal pancake batter, frying it in a medium-heat pan on the stove. A half-cup of batter makes one pancake. Toss a bit of butter in the hot pan before frying the pancakes. Let your kids cover their pancakes with healthy toppings like fresh fruit, pure maple syrup, or organic peanut butter.
Don't be afraid to incorporate squash into your family's meals; you may just need to dress it up a bit to win over the pickier eaters in your crew. And hopefully these three recipes give you good ways to start.
This article is presented by Jake Sweeney Mazda.