Discover the Land of Enchantment in Santa Fe, New Mexico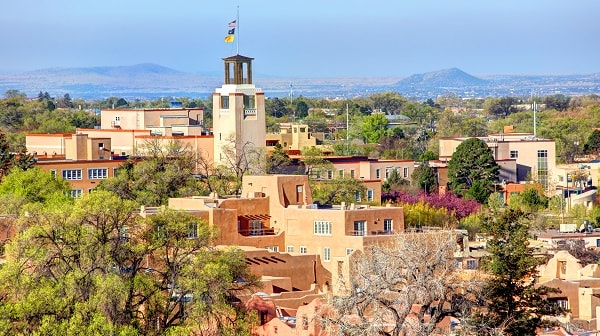 Santa Fe, New Mexico, is an oasis of fun and leisure in the arid American Southwest. Head to this city if you're looking for adventure mixed with healthy measures of culture and relaxation for your next vacation destination.
What to do
This city isn't just home to a bustling state capital – it is also a major center for arts and history. If modern art interests you, make sure that you seek out Georgia O'Keeffe's works
at the museum named after her
. The iconic American artist spent a large piece of her life living just outside of Santa Fe, and the experts at the Georgia O'Keeffe Museum credit her as an original contributor to American Modernism. Besides the main museum, you can also
visit her home, studio and painting subjects
outside city limits with information from curators.
A major part of the American Southwest's story is the contributions of its first settlers.
The Museum of Indian Arts and Culture
shares the Native American experience through the ages with its permanent collections, events and exhibitions. Programs throughout the year, like Breakfast with the Curators, lets you get a closer look and learn more about this institution.
Santa Fe's location is ideal if you're looking to get out in the natural world, as it is very close to several protected spaces. This includes the
Santa Fe National Forest
,
Valles Caldera National Preserve
, and the
Pecos National Historical Park
. These locations have opportunities for hiking, camping and fishing, and there are several local companies offering equipment rental and tours. Make sure you look up the rules of each facility before you head out so as not to disturb what each place protects.
Where to stay
Santa Fe's status as a major American city means several chain hotels are in the area where you can earn or cash in loyalty points. If you're looking for a unique experience, consider
Sunrise Springs Spa Resort
. It offers luxurious accommodations, but where it really goes beyond is with guest experiences. If you travel there in the hottest months, there are adult summer camps with unlimited activities like archery, hatchet throwing, art and yoga. After camp is over, you can still participate in these events for a different cost. The resort gained
national attention from Travel and Leisure
for offering opportunities to cuddle and play with service dogs in training, interact with soft Silkie chickens and snuggle with adoptable cats.
Where to eat
When you head to Santa Fe, make sure you get a taste of local cuisine. The staff at Lonely Planet recommends
Cafe Pasqual's
, which is just off the main plaza. It's a colorful restaurant with homey favorites like huevos motuleños, a breakfast dish featuring bananas and feta cheese, as well as grilled flank steak carne asada and mole enchiladas. Another eatery with distinctly Southwestern flair is the
Blue Corn Cafe
. It has served locals and visitors to the city for more than 20 years, and its menu has dishes like ensalada tostada, fry bread tacos and green chile mac-n-cheese.
Santa Fe is the right destination if you're looking to explore, relax and learn. Consider booking your tickets and taking in the American Southwest.
This article is presented by East Hills Chrysler Jeep Dodge Ram.