Tips for Splitting Household Chores Fairly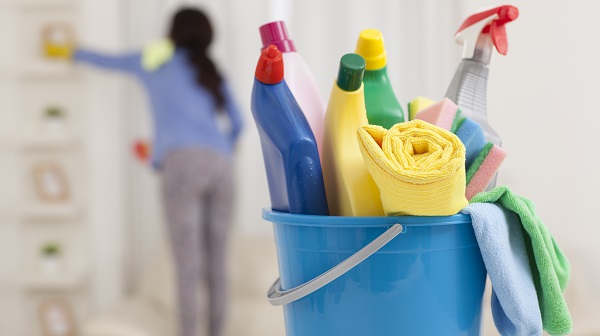 Since there is no end to household chores, it is imperative that no one shoulders the burden alone. When everyone pitches in, the chore list disappears quickly and everyone, especially you, is happier and less stressed. The following tips will help you divide household chores fairly.
Celebrate strengths
If your spouse relishes outside chores, by all means, hand them over. If you prefer vacuuming to washing dishes, make a case that you will take on vacuuming duties. Even your little ones can help with sorting socks or putting away their toys at the end of the night. If you have an aspiring chef in the house, task them with lunch and snack prep. "If mowing the lawn doubles as much-needed stress relief, or if you secretly enjoy folding laundry while listening to podcasts, sign up for these jobs," advises Martha Stewart writer Nicole Harris. "Similarly, ask your partner if he or she minds taking on tasks that you absolutely despise, whether it's taking out the trash or washing dishes."
Make it a game of chance
Make assigning household chores a game with a chore wheel that lists out tasks. Everyone in the family takes a spin (or two) of the wheel to determine their daily or weekly responsibilities. Write tasks on slips of paper and throw them in a hat, jar or basket. Everyone reaches in and pulls out a chore.
Build a chore sandwich
When giving criticism, age-old advice is to sandwich the negative feedback between two compliments. Apply this wisdom to your chore-assigning duties. Even though it might be challenging to find "fun" chores, there is no shortage of loathsome duties. When only one of the chores is less than desirable, the other two tasks should be easier to complete. If you are able to assign a chore sandwich to everyone in the house, no one will feel singled out and burdened with the worst chores. You can even let your family members create their own sandwiches if that helps keep the peace. After discussing what chores are "good" and "bad," they can pick one from the bad category and two from the good category. Just make sure to make new sandwiches weekly so no one is stuck with the same tasks for too long. Teaming up can make the worst chores less painful, too.
Add everything to the list
Household chores typically divide into three categories — cooking, cleaning and outside (landscape) maintenance. Although these categories include limitless chores, unfortunately, they do not cover everything necessary to run a successful home, according to The Nest writer Rachel Wilkerson. Bills need to be paid. Special occasion gifts for your family need to be bought and wrapped. Your furry family members need walks, poop pick-up and constant care and attention. "If you leave these things off the list, one person can easily get stuck doing the bulk of them on top of the other chores he or she has to do," Wilkerson warns.
Many hands make light work. Splitting up household chores fairly among the people you love will achieve a clean, tidy and calm home quickly and efficiently.
This article is presented by Krause Toyota.