Vehicle Preview: 2021 Ford Mustang Mach-E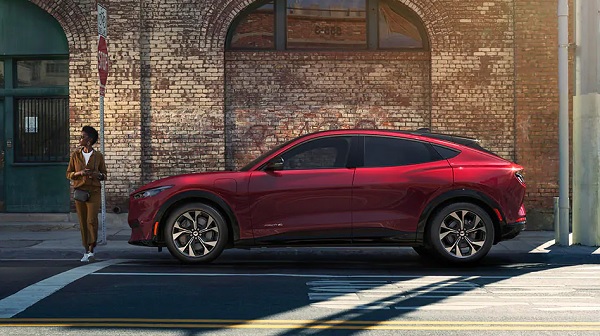 The Ford Mustang has a 55-plus-year legacy of inspiration born from the drive to excite. The desire to bring drivers exhilaration without emissions led Ford to innovate yet again, and the result is the all-new 2021 Mustang Mach-E. The latest member of the Mustang stable, the Mustang Mach-E delivers the performance that you'd expect from the legendary pony car while lessening your carbon footprint.
Go further and forget about fuel
Range anxiety is a real impediment for some looking into all-electric vehicles, but the 2021 Ford Mustang Mach-E poses no such stress. With an extended-range battery, the new Mustang Mach-E is expected to deliver an EPA-estimated range of 300 miles, making it one of the most capable all-electric vehicles on the road.* Even if you opt for a higher-performance version like the Mustang Mach-E GT, Ford expects a range of up to 250 miles on a single charge.
Adding to the convenience of the Mustang Mach-E is the fact that your purchase includes two years of access to the FordPass™ Charging Network, which boasts more than 12,500 charging stations and 35,000 charge plugs around the country, as well as a standard Ford mobile charger for home use. Ford anticipates an estimated charging time of 45 minutes to go from 10 to 80 percent battery capacity using a DC fast-charging station. This means you won't need to block out huge amounts of time in your trip to charge up if you're heading cross-country. With the ability to map your trip based on charging locations, you'll never find yourself wondering about the next best time to stop in the 2021 Ford Mustang Mach-E.
Earning the pony emblem
To earn its spot as an official part of the Mustang family, the new Ford Mustang Mach-E had to deliver performance chops on the same level as the best-selling sports coupe. With the available Mach-E 4 all-wheel-drive system, Ford anticipates that the Mustang Mach-E GT will deliver a 0-60 mph time faster than that of a Porsche Macan.** With AWD and the extended-range battery equipped, the Mustang Mach-E is targeted to deliver 332 horsepower and 417 lb-ft of torque, making it more powerful than the 2020 Ford Mustang EcoBoost
®
.
Ramping up the performance aspect to yet another level, Ford will offer two high-end iterations of the Mustang Mach-E focused on delivering superior driving dynamics. The 2021 Ford Mustang Mach-E GT, with standard all-wheel drive and extended-range battery, targets an output of 459 horsepower and 612 lb-ft of torque and a 0-60 mph time of under four seconds. Upgrading to the GT Performance Edition knocks the 0-60 time down to the mid-three-second range, putting it on par with the Porsche 911 GTS.***
Ford is making history once again with the Mustang name. The all-new, all-electric Mustang Mach-E is available to reserve now with orders set to get underway mid-year. To learn more about how you can make the new Mustang Mach-E yours, visit your local Ford dealership.
*Based on full charge. Targeted range applies to an available configuration with the Extended range battery and rear wheel drive. Actual range varies with conditions such as external elements, driving behaviors, vehicle maintenance, and lithium ion battery age. Final EPA-estimated ratings available in the 2020 calendar year. Available late 2020.

**Targeted performance based on manufacturer calculation using computer engineering simulations versus Porshe.com data. Your results may vary.

***Available Spring 2021. When equipped on the GT with optional equipment and the Extended range battery and AWD. Based on manufacturer testing using computer engineering simulations. Your results may vary.
This article is presented by Pegues Hurst Ford.