Put a New Twist on Sushi with These Recipes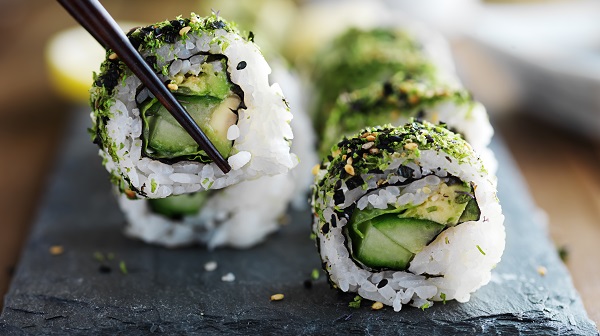 Sushi is a traditional Japanese dish that typically consists of a seaweed wrap filled with white rice as well as raw fish or vegetables — or a combination of the two. If you know someone who wants to try sushi but is hesitant about consuming some of those ingredients, try putting a new spin on the classic maki roll with these inventive recipes.
Breakfast sushi
You can go multiple ways with breakfast sushi; it all depends on what you're craving. For a savory option, Spoon University has completely ditched the traditional sushi ingredients with bacon, eggs, shredded cheese, tater tots, and red bell peppers.
Preheat the oven to 350 degrees Fahrenheit. Then start weaving 10 raw bacon strips, 5 in width and 5 in length, into a sheet that will serve as your wrap. Place the bacon wrap on an aluminum foil-lined baking pan and set aside.
Next, put 30 cooked tater tots in a bowl and add one egg. Mash together until blended well. Then, slice the red bell pepper into thin strips.
Spread the tater tot and egg mixture on the bacon wrap, leaving approximately one strip of bacon uncovered on one end. Sprinkle your preferred shredded cheese across the top and then place the sliced bell peppers across.
Once the fillings are in place, roll the bacon wrap up and secure it with toothpicks. Bake in the oven for 35 minutes and let it cool before slicing it into rolls. Serve with chopsticks and a side of maple syrup.
If you want a sweeter option, try using waffle or pancake mix to make your wrap and fill with fresh fruit and whipped cream.
Vegan sushi
While you can definitely fill a sushi roll with just vegetables, there's something about the umami flavor of raw fish that makes it seem more authentic. If that one ingredient is holding you back from enjoying a maki roll, try this vegan recipe from Carrots and Flowers that uses tomatoes to mimic the flavors of spicy tuna.
You'll need many traditional ingredients to make this dish. Start by cooking 1 cup of sushi rice and when it's almost done, add 1 tablespoon of rice vinegar, 1/2 teaspoon of salt, and 2 teaspoons of sugar. Mash together with a fork.
While the rice is cooking, you'll need to boil 2 large Roma tomatoes until the skin starts to peel off of them. You can aid this process by piercing the skin with a knife before putting them in the water. Once the skin starts to fall off, immediately put them in a bowl of ice water to stop any additional cooking.
Next, combine 1 1/2 tablespoons of soy sauce or tamari, 1/2 teaspoon of minced ginger, a generous 1/2 tablespoon of kelp powder, 1/2 tablespoon of Sriracha sauce, and 1/2 tablespoon of sesame oil in a container with a lid to create the marinade for your tomato "meat." Stir the mixture well and set aside.
Peel the tomatoes completely and slice the flesh, removing the watery seeds while doing so. Dice the tomato flesh into small cubes and put them in the marinade container. Place the lid on the container and shake until all of the tomato pieces are covered.
Cut 1/2 of a small cucumber and 1/2 of an avocado into thin strips. Then prepare your sushi rolling station by laying out a kitchen towel with a sheet of plastic wrap on top.
Put a sheet of nori (seaweed) on the plastic wrap and, with wet fingers, spread a thin layer of sushi rice across the nori. Be sure to leave a small bit of space at the ends to be able to close and wrap the roll.
Layer the remaining ingredients within the roll, including the marinated tomatoes, cucumber, and avocado. Roll the sushi up slowly, compressing it as you go, to get that signature maki look. Slice the roll into pieces with a knife and enjoy.
While some sushi aficionados may have issues with these recipes, don't let the naysayers get you down. You're the one eating it, and if it tastes good, that's all that matters.
This article is presented by New Rochelle Chevrolet.