3 Haunted Attractions in Northern California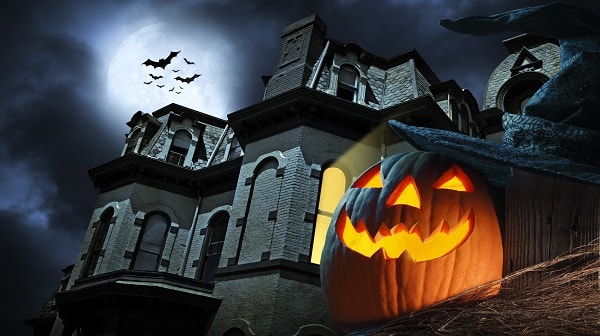 It's that time of the year when ghosts and goblins are hiding in the dark, waiting to jump out and scare the living daylights out of you. Whether you want to visit a traditional haunted house or try something extra creepy and creative, Northern California is home to plenty of haunted attractions. Here are three spots to choose from for your next spine-chilling adventure.
Ultimate Terror Scream Park
Featured on CBS and ABC — and deemed "Best in the West" by Forbes —
Ultimate Terror Scream Park
in Sacramento is your one-stop shop for all things ghoulish. The haunted houses are open now through Nov. 2 and include three maze attractions: The Bride, Screech Ward and Morbid Manor. Each attraction has a mysterious and frightening backstory, including curses, flesh-eating humanoids, grotesque experiments and more bloody body parts than you can imagine. A general admission ticket is $29.99 Sunday through Friday and $33.99 on Saturdays and on Halloween and grants you access to all three haunted houses. However, if you don't want to wait in line for too long, you can opt for a Fast Pass or immediate admission at increased prices. Access to the haunted houses is from 7 p.m. to 10 p.m. on most nights, but the Scream Park is open until midnight on select dates. Keep in mind, this location is very intense and is not recommended for children under 12 years old.
Ranch of Horrors
If you want a haunted house adventure that's out of the ordinary, you need to visit Snelling's
Ranch of Horrors
. Open Friday through Sunday from Oct. 4 to Nov. 2, Ranch of Horrors provides a little something for everyone. This ghostly location offers four ways to get seriously spooked: the House of the Dead haunted house, the Dredging Fields haunted hike, the Spirit Chasers Paranormal Investigation and the Quarry paintball adventure. For $25, you can travel through the abandoned Quarry that's filled with lurking mutants in the dark. You'll have to protect yourself with a paintball gun to make it out alive. Tickets for some of the other attractions at Ranch of Horrors sell out fast, so you'll need to hurry to get your spot reserved. While it's up to the parent's discretion to allow children under 12 in the haunted house and other attractions, only those 12 years and up are allowed on the paintball field.
Pirates of Emerson
This isn't where you'll find Jack Sparrow and his grimy crew aboard the Black Pearl.
Pirates of Emerson
is one of the longest-running haunts in the Bay Area, turning the Pleasanton Fairgrounds into something of a "Haunted Theme Park" with five attractions: Mystery Mansion, Hillbilly Holler, Pirates of Emerson, Maze Haze and Dorm of Doom. Open Oct. 4 to Nov. 2 on select dates, general admission is $35 at the door and $30 online, and you can buy a Speed Pass upgrade for an additional $10 to skip the line. Live music and entertainment will also be present each night, providing even more ghoulish ambience to the fairgrounds. If you have someone in your family or crew that isn't a huge fan of the haunted happenings but still wants to tag along, they can purchase a Landlubber ticket for $10 that will grant them access to the park but not to any of the attractions.
From creepy clowns to petrifying pirates and everything in between, these haunted spots in NorCal are sure to send a chill through your body.
This article is presented by Walnut Creek Honda.